What should schools teach?
By Mike Baker
Analysis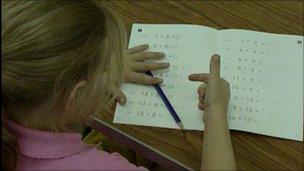 Now the dust is settling on the spending review, the next big step for the coalition government is deciding what schools should teach.
The imminent White Paper on schools in England will set out plans for teacher training, a national funding formula, and teachers' pay and conditions.
And, crucially, it will set out the direction of the forthcoming review of the national curriculum.
Ministers have already dropped hints about what they want pupils to learn.
We know, for example, that the Education Secretary, Michael Gove wants "a relentless focus on the basics" but within a slimmer and more flexible curriculum.
He also wants learning organised around traditional "subject disciplines", rather than "pseudo-subjects".
Ministers believe the curriculum has lost its way. They want to return to the more conventional approach of the original national curriculum created by Mrs Thatcher's government in the 1988.
Observers noted the similarities with the compulsory subjects in the 1904 Board of Education Regulations: English, maths, science, history, geography, a foreign language, drawing, PE, music and "manual work/housewifery".
The 1988 national curriculum replaced the latter with technology, but otherwise was remarkably similar.
Since then, though, the national curriculum has undergone several reviews.
The most recent was Sir Jim Rose's revision of the primary curriculum last year.
But the new government disliked its thematic approach and hastily shelved it after the election.
But ministers say they are not simply looking to the past - they also want to learn from other countries.
So, this week we learnt that the national curriculum review would specifically look at what is happening in "the most successful school systems" around the world.
That raises the question: which other countries provide the best curriculum models?
Tim Oates, head of research at Cambridge Assessment, has a pretty clear idea.
"Successful countries build their curriculum around subjects", he told me, "so we need to look what they do in places like Hong Kong, Singapore, Massachusetts and Alberta".
Oates has just published a research paper, called "Could do better", on the lessons to be learnt from England's past curriculum reviews and from other countries.
It argues for a "narrower and deeper" curriculum, with a focus on "key concepts and bodies of knowledge".
In a sign of official approbation, the paper has a foreword written by Michael Gove.
Oates' views will upset many who have shaped the national curriculum in recent years.
He argues that the curriculum has too often been used as a punch-bag, with content being added to "appease competing lobbies".
Hence the "repeated addition of new material" such as Citizenship, functional skills, and sexual health as a theme in biology.
He criticises the "frequency and extent of change", arguing this has left teachers confused about which bits are compulsory and which are not
So what might a slimmer, but deeper curriculum look like?
The Canadian province of Alberta has been praised by Gove as having the best-performing schools in the English-speaking world.
Alberta has "Programmes of Study" for pupils from 5 to 18, setting out what they should know and be able to do in each subject.
So, for example, upper primary school age pupils study: English (25% of the timetable), maths (15%) science (15%) social studies (10%), art and music (10%), health, life skills and PE (10%) and, for the remaining 10%, other subjects such as a second language, drama or RE.
In history (included in social studies) the "programmes of study" are very detailed about the facts pupils should know at different ages, for example: the fur trade, the War of 1812, and the Act of Union 1840.
However, while the Alberta curriculum tells teachers what knowledge they need to cover it does not specify how they should be taught nor does it prescribe particular topics.
Oates believes we need radical revision of the national curriculum but that, once this has been done, there should be a period of stability.
However another recent international study, Curriculum Review from the National Foundation for Education Research, shows many countries automatically review their curriculum at set intervals.
In Hungary and the Netherlands the curriculum is reviewed every 5 years. In Singapore it is every 6 years and in Japan every 10 years.
Overall, 6 out of the 23 countries studied conducted regular reviews.
But the rest were more like England, holding occasional ad hoc reviews in response to changes of government or concerns about overload.
And England appears to be swimming with the tide, since most other countries are also trying to slim down the compulsory curriculum.
But the challenge for ministers today will be to resist cramming-in too many of their favourite authors or historical dates.
At the Conservative party conference, Gove, gave a list of the authors he wants taught: Dryden, Pope, Swift, Byron, Keats, Shelley, Austen, Dickens, and Hardy.
He has also appointed the historian Simon Schama to advise on the history curriculum, which he wants to cover our full "island story".
But he may wish to ponder on the experience of his predecessor, Kenneth Baker, the Conservative Education Secretary who oversaw the 1988 national curriculum.
He too was an enthusiast for literature and history. He too appointed panels of experts to suggest the content for each subject.
They got carried away with their enthusiasm for their subjects. The result was like pouring a quart into a pint pot.
In her memoirs, Mrs Thatcher declared herself "thoroughly exasperated" at the complexity and size of the curriculum her government had introduced.
By the time she left office, she said, she was convinced there would have to be "a new drive to simplify the curriculum".
Perhaps that should be a lesson for Mr Gove who, I'm sure, wouldn't wish to be similarly hand-bagged.
Mike Baker is a freelance journalist and broadcaster specialising in education.
Related Internet Links
The BBC is not responsible for the content of external sites.