209,000 university hopefuls miss out on degree places
By Hannah Richardson
BBC News education reporter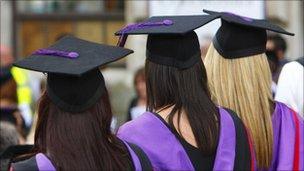 More than 209,000 would-be students were left without a university place this year in the UK, official figures show.
This was 52,938 or a third more than in 2009, Ucas data say.
Grammar and independent school pupils were least likely to be disappointed in the university application process.
But there was a small increase in the number of students accepted from areas that do not traditionally send large numbers on to higher education.
Figures from the university admissions services Ucas show just under seven out of 10 applicants found a place at university compared with 75% the year before.
Although the acceptance rate for pupils from all types of schools was down, it fell less sharply at independent and grammar schools where 82.9% and 83.8% of applicants respectively, found a place.
At both comprehensive schools and further education colleges the acceptance rate was down nearly five percentage points to 78.5% and 74.3% respectively.
But there was a large increase, 22%, in the number of students who declined offers made to them or withdrew their applications.
With applications up for a limited number of places competition was tougher than in previous years.
And overall the number of UK applicants accepted for a university place in 2010 was down slightly by 0.2% to 421,288 on 2009.
The number of foreign students, who pay higher fees than domestic students, rose by 7% at the same time.
Universities minister David Willetts said there were routes other than through university to a successful career, such as apprenticeships or setting up a business.
He added: "Going to university has always been a competitive process and not all who apply are accepted.
"Despite this we do understand how frustrating it is for young people who wish to go to university and are unable to secure a place.
"However, almost half of those without a university place at the end of clearing had either rejected an offer or chosen to withdraw from the process."
Head of the Association of School and College Leaders Brian Lightman said it was encouraging that the greatest increase in take-up of university places came in the most disadvantaged 20% of the population.
But he added: "I cannot see this trend continuing with the introduction higher university fees. Universities must remain accessible and affordable for students of all backgrounds."
The Headmasters Conference, which represents independent school heads, said 2009-10 had been a very tough year for applications but it was pleased to see that the number of acceptances to the top universities from its pupils had held up.
Les Ebdon, chair of university think-tank Million+, said the figures painted a worrying picture, adding that there were actually fewer UK students accepted in 2010 than in 2009.
He added: "Year-on-year increases in attainment and aspiration have not been matched by enough student places.
"The result of this funding failure is that a whole generation of students will miss out on the life-changing opportunities that a university education provides."
Association of Colleges assistant chief executive Julian Gravatt said this year's figures heralded worse to come next year.
"Students will be scrambling for places prior to a rise in tuition fees in 2012 - plus we will see a 5% growth in the number of students sitting A-level or equivalent exams next year as more young people stay on."
This was backed by general secretary of the lecturers' union, UCU, Sally Hunt, who added: "Those students will, of course, will be competing with the 200,000-plus people who missed out this summer."
Sir Martin Harris, director at the universities' Office of Fair Access, said: "Looking ahead, with plans to increase tuition fees to up to £9,000 a year from 2012-13, it will be very important for Offa and universities to develop stronger access measures so that those from disadvantaged backgrounds are not deterred on financial grounds."