Young carers: Your reaction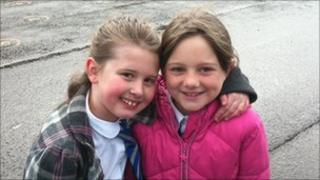 There are four times more young carers in the UK than are officially recognised, figures published by the BBC suggest.
One in 12 of the 4,029 schoolchildren asked by the BBC said they had caring responsibilities - such as dressing, washing or bathing family members.
BBC News website readers have been getting in touch with us to share their thoughts and experiences of being - or needing - young carers.
Your comments
This doesn't surprise me. My husband is disabled and I did everything in my power not to involve our son in his personal care. However, it's not always possible. Even though he wasn't regularly involved, he still knew that it had to happen, that other people were helping with his dad's care, and this upset him unduly. The relationship between father and son obviously changed. My husband now lives in a care home and the balance is somewhat restored, but I don't think it'll ever be the traditional relationship. It adds an extra dimension to my son's childhood, and he's had to become more self-sufficient because of this. Care in the UK really needs to be revisited. Sarah, Birmingham
In my gap year I cared for my mum, who had been diagnosed with terminal breast cancer metastasised to her liver. She was given just a few months to live, and although I had originally been intending to go straight to university after leaving sixth form, I chose to take a year out to look after her and spend precious time with her. At first my caring mainly took the role of getting her food, doing all the family cooking and making sure she had everything she needed. However, as her condition worsened my role increased to washing her, feeding her and giving her medication. This was very mentally and physically hard for me at only 18 and I received very little help. I can't imagine what it must be like for people even younger than myself. I will never regret my decision to care for my mum, but I know more than most that help is sorely needed and it is not being provided. Annie, London
I feel that, by repeating that such carers often have to help the person they care for to "dress, wash, bathe or shower," you are misrepresenting a large proportion of carers. As a carer myself, I know from my own experience that these are not the only tasks involved in caring, nor are they necessarily the most demeaning, time consuming or draining. For instance, when I was living at home with my profoundly deaf sister, I often had to drop what I was doing to assist her in simple things, such as taking a phone call, and helping her understand her friends when in conversation. These are just two of the responsibilities I felt I had, and I can vow that they were often very stressful and tiring activities - it's not particularly enjoyable to have to repeat what people say maybe three or four times, for an entire evening. I do feel that there are, as it were, a hidden army of carers who are under just as much pressure as the ones mentioned, but are rarely recognised in media reports, to such an extent that they don't even consider themselves to be carers. Daniel Meekings, UK
As an adult carer, I feel nothing but admiration for these children who are in a most adult role of carer. The coalition's welfare reforms will pile more misery onto these children as the people they care for will be put under terrible pressure both emotionally and financially as they are put through the agonising re-assessment process. These children need help and support, as do the people they care for, not punishment and increased poverty. Malka, UK
Our sons have autism, and our teenage daughter has been a young carer for years, with no support. We have asked for help for her and none offered anything. Julie, Winterton
I was a carer for my father when I was 26 for nine years, and while he is no longer here I look back with pride that I was able to help. BUT this is not a job for a child. I can not stress that enough. The emotional drain it adds to your life is overwhelming. Children need to be children and enjoy a carefree existence. Sadly parents do get ill, but that is no excuse for the Government to ignore the problem. Why would you leave an innocent child in a position of what I can only be described as distress; because as noble as being a carer is, "distress" is the only word to describe the daily grind. You fear every day that your loved one will be gone, and all you can do is keep "doing". Imagine being a child in that position - how helpless would you feel? Gemma, UK
Our son, who has gone blind, and our daughter are both young carers. They do lots of caring roles, from preparing meals, to medical interventions with their siblings. We receive direct payments to buy in care from carers we employ. However, if a carer does not turn up for work for any reason then they step in. I can pay my carers from my Direct Payments budget, but when my son and daughter are doing the same job, sometimes more efficiently, they cannot be paid from that budget at all. Because they live in the house, they are expected to do their caring for free! What message does this give them? There are times when they forget things for school, when they have not been able to get homework done. School is getting better at understanding but there are some staff who just don't get it at all. Tina, UK
The young people on your show are so courageous. I cared for my mum for 18 years, with the last six years of her having Alzheimer's. I found it so hard as a middle-aged person with lots of personal resources. These young people who are so dedicated to their family and the role as carer must be given support so that they can have equal opportunities. My heart goes out to them. I am a mentor/lifecoach art teacher and am so shocked that any young person is left in virtual isolation to make provisions for their parents. Jay Miller, Suffolk