NUS may contest an Oldham by-election, if one held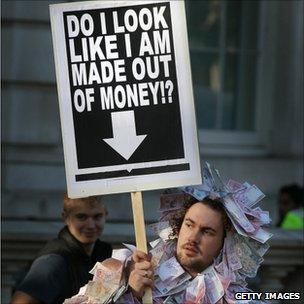 The National Union of Students is considering fielding a candidate in the Oldham East by-election, if one is held, its president has revealed.
NUS president Aaron Porter said his members wanted to express their anger about tuition fees rises.
A by-election will be held if ex-Labour MP Phil Woolas fails to overturn a ruling stripping him of the seat for lying about a rival candidate.
The NUS has also vowed to target Lib Dem MPs including deputy PM Nick Clegg.
It wants people to sign a pledge not to vote for any MP who backs the proposals to allow universities in England to charge up to £9,000 a year.
It is angry that the Lib Dems promised, pre-election, to oppose such rises.
Mr Clegg's spokesman said the Lib Dem leader was working on making the new system as fair as possible and was not surprised by the NUS campaign.
The Lib Dem leader has said he regrets being unable to deliver on the party's tuition fees promise as part of the coalition agreement with the Conservatives.
The NUS campaign will feature a new website with the slogan "It's time MPs kept their promises".
Mr Porter told BBC One's Politics Show he would be urging a parliamentary recall for MPs who had broken promises on tuition fees - and had not ruled out fielding election candidates of his own.
He said the idea was to hold politicians to account - and denied the union was letting other parties off the hook by targeting the Lib Dems.
"It's against anyone who breaks their pledge. At the moment it looks as if there are only Liberal Democrats against whom there are question marks," he told the programme.
He said the union had not made a decision on whether to field a candidate in Oldham East and Saddleworth, if there was to be a by-election there, but it was "certainly" possible.
Asked if he would stand himself, Mr Porter said: "I don't think it would be me," but added that it was "important" to have the issue of tuition fees on the agenda.
If a by-election was to be held it would be seen as a key test of the coalition and, in particular, the Liberal Democrats, in the wake of demonstrations against tuition fee rises.
The Lib Dems came second to Mr Woolas in the seat in May's general election, by the narrowest of margins.
In other parts of the country, Mr Porter said the union wanted to use the spirit of the coalition agreement, under which it was proposed to give constituencies the right to call a by-election if an MP was found guilty of wrongdoing.
According to the Observer newspaper, there will be a particular focus on MPs in constituencies with large student populations, such as Mr Clegg, who represents Sheffield Hallam.
Caroline Dowd, Sheffield Hallam University's student union president, told the paper her members were "livid" about visits Mr Clegg had made to their union before the election.
"He came and spoke about how MPs should not make promises and then break them, about how fees were wrong."
But former Lib Dem MP Evan Harris said the NUS campaign was a "transparent stunt", stressing that manifesto promises could be fulfilled only if a party won a majority.
Related Internet Links
The BBC is not responsible for the content of external sites.