National formula 'to fund England's state schools'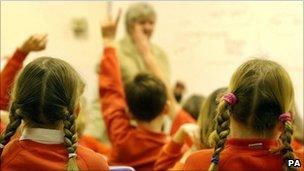 The government is looking to centralise the way in which funding for England's 20,000 state schools is allocated.
Officials said this did not mean local authorities, now responsible for deciding funds, would be sidelined.
But the Department for Education is considering a "national funding formula" that could scale back their influence.
A White Paper will propose giving head teachers more freedom to decide priorities.
Ministers are planning to consult councils about the level of their involvement in the construction and operation of the formula and officials stressed the government wanted to work closely with them.
Local authorities have managed education budgets for a century.
The move follows government concerns that many of the formulas used to decide how to allocate the so-called dedicated schools grant are out of date and do not recognise changes in recent years.
The current system was seen as "opaque and illogical" by officials and in need of levelling out.
Some money can be held back or allocated based on council priorities and at the moment two schools in different areas but with similar intakes of children can receive different levels of funding.
Ministers are said to want budgets to reflect more closely pupils' needs and head teachers' priorities.
A Department of Education spokeswoman said: "We believe the way education is funded at the moment leads to huge variations in the money similar schools receive so we want to introduce a fairer and more transparent system.
"Details will be set out in our White Paper later this year."
The National Association of Head Teachers (NAHT) appeared to welcome the prospect of a national funding system.
Head of policy Kathy James told BBC Radio 4's Today programme there were "some significant inequities" under the current approach.
"We have felt for some time that we do need a national funding formula to provide the money for schools," she said.
But the leader of the country's biggest teachers' union, NASUWT, attacked the plans as part of a "mission of massive centralisation".
General secretary Chris Keates said: "The coalition government has an irrational contempt for local authorities which is equalled only by its contempt for public services.
"Once the funding link with local authorities is cut, every school will be cast adrift, at the mercy of a government quango.
"This... will distribute money without the slightest interest in the needs of individual schools or their local communities."
Baroness Margaret Eaton, chairman of the Local Government Association, which represents councils, said changing the system would simply increase red tape.
"We believe it would be better to retain the current streamlined method for schools funding - the dedicated schools grant - which channels public money effectively to schools via local councils, without the need for creating additional bureaucracy," she said.
Educationalist Keir Bloomer, who previously called for a similar scheme in Scotland, said: "This is not, I think, a matter of giving a single figure per pupil and distributing the money on that basis but of developing some quite finely tuned ways of working out what schools in particular circumstances need and ensuring that they get it, so far as the finances are available to do it."
Related Internet Links
The BBC is not responsible for the content of external sites.