Ofsted inspectors say literacy standards 'fall short'
By Angela Harrison
Education correspondent, BBC News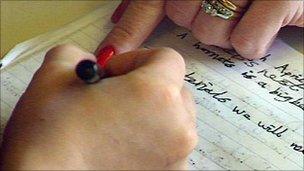 Too many children leave primary school unable to read or write well enough, England's chief schools inspector says.
Head of Ofsted Christine Gilbert said standards of reading and writing among many 11-year-olds fell "stubbornly short" of achievable levels.
One in five is not at the level expected for English at age 11.
Rigorous teaching of phonics, which focuses on the sounds of letters and letter combinations, could help all pupils, of any background, she said.
Ms Gilbert said: "Despite some major initiatives in recent years to raise standards in reading and writing, the levels achieved by many children at the end of primary school fall stubbornly short of what is achievable."
The literacy levels of England's 11-year-olds are measured by the national tests - or Sats - and are published in the primary school league tables.
Last year 80% of pupils achieved the grade for English the government expects them to (Level 4), with girls (85%) outshining boys (75%).
Reading levels are higher, with 86% making the grade, while in writing only 68% do so.
Pupils are also assessed by their teachers at the age of six or seven in reading, writing, maths and science.
The latest data on those Key Stage 1 assessments - published last Thursday - showed that nearly 85% of pupils were reading at the expected level (Level 2), with girls doing better than boys.
Overall, there was a slight rise in reading and writing levels on last year's results.
Ofsted has published a report which looks at how 12 top-rated schools teach children to read and write and hopes it will be a guide to the best practice in teaching phonics.
Ms Gilbert said the schools represented a wide range of communities but shared some key similarities - they all had high expectations of all children and taught pupils to read using phonics.
"They are passionate in their belief that every child can learn to read," she said.
"Teaching children to read is at the heart of their curriculum. Rigorous, intensive and systematic phonics teaching underpins reading, spelling and writing."
Phonics is widely used in schools - often in combination with other methods of teaching children to read - but Ms Gilbert says it must be taught rigorously and systematically to have the best effect.
It is a message the coalition government is keen to spread.
Education Secretary Michael Gove wants children to be taught to read using phonics and before the election had said they should be able to do so by the age of six.
The government is planning on introducing "a simple reading test" for six-year-olds to help identify those who need extra help.
Tests will be piloted for a year from next June.
In its business plan, published last week, the government included the target of promoting "systematic synthetic phonics in schools".
Schools Minister Nick Gibb said: "This report provides further evidence of the success of systematic synthetic phonics in teaching children to read. The government is determined to raise the standard of reading in the first years of primary school so that children can master the basic decoding skills of reading early and then spend the rest of primary school reading to learn.
"The schools highlighted in the report are also characterised by the high expectations which they place on pupils, and how those pupils rise to the challenge - achieving in areas of relatively high deprivation."
Teachers and head teachers say phonics is a good way of teaching children to read, but is not a magic formula and good teachers will use various strategies to meet their pupils' needs.
Russell Hobby, general secretary of the National Association of Head Teachers, said: "Literacy is a fundamental skill and right. The overwhelming majority of children reach good standards but we want every child to get there. More than that, we want every child to enjoy reading and writing.
"Few will be surprised to discover that children benefit from consistent, structured, well-paced teaching coupled with praise and reinforcement.
"This report demonstrates that there are proven strategies, and some 'essentials', but no magic formula to get children reading."
And Christine Blower, general secretary of the National Union of Teachers said: "It is not the case that phonics helps every child read well. Many children with specific learning difficulties not only struggle with it, but in some cases find the approach totally ineffective.
"If phonics was truly the magic solution to literacy then it would have become a systematic part of teaching many years ago. The reality is that a range of teaching methods need to be deployed according to need, rather than a one-size-fits-all approach."
Education is devolved across the UK, with each administration deciding on spending and policies.
In Scotland, there is no set policy guidance on the use of phonics, but it is given as an option in a literacy action plan.
Under the Curriculum for Excellence, local authorities and schools are given flexibility to tailor the curriculum to local needs, officials say.
Related Internet Links
The BBC is not responsible for the content of external sites.