University fees reforms 'will not save money'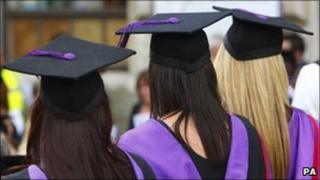 Government plans to allow England's universities to raise their fees to up to £9,000 a year will not save taxpayers' money, experts say.
The Higher Education Policy Institute (Hepi) says with almost all universities set to charge the top rate, a larger than expected burden will fall on the Treasury.
It adds that the true cost of student loans has been underestimated.
The government insists its plans are affordable for the nation.
Hepi examined government plans to reform England's higher education system, which involve removing the teaching grant and replacing it with higher fees for students.
These would be paid through government-funded loans which students start to pay back once they earn £21,000.
Universities are to be allowed to charge up to £9,000 a year for courses; the government expects most to charge about £6,000 - with some going above that in exceptional circumstances.
'Low-quality' label
But Hepi argues that almost all will charge the top rate in due course, which means the government will have to fund much larger student loans.
Its report says: "Those that have struggled to recruit students will initially be more cautious, but within a few years, we believe that almost all universities will charge the maximum £9,000 fee."
This is because charging lower fees risks them being identified as "low-quality" or "low-prestige" institutions.
It continues: "The public expenditure costs will be much higher than expected... because fees (and therefore the government's loan obligations) will be much higher than anticipated."
The report also says that the government has underestimated the real cost of making loans of this size and length to students.
The government assumes it will lose between 25% and 30% of the money it lends out, as it does now.
But Hepi argues it is more likely to lose about 50% of what it lends because the sums being borrowed are much larger and the government's estimate of what graduates will earn is too high.
The government also assumes the average graduate earning will be almost £100,000 a year - a calculation based on graduate wages having trebled over the past 30 years.
But Hepi's director, Dr Bahram Bekhradnia, said this estimate was over-optimistic as there were so many more graduates in the market for jobs now than there had been over the past 30 years.
He added that with loans being opened up to part-time students, who had higher drop-out rates, there would be many more students who did not complete their courses.
The report concludes that the reforms cannot be expected to save money in the long term and that the Treasury is likely to demand changes which may include raising loan interest rates, reducing student numbers or a further fees hike.
It adds: "The government's entire strategy is based around reducing public borrowing. Borrowing to give grants to universities counts as public borrowing.
"Borrowing in order to make loans to students does not count as public borrowing, to the extent that the government can show a stream of income to offset the loans."
'Treasury models'
The report also questions ministers' assumptions about how a market in fees might work to improve the quality of university teaching.
It says that the belief that student choice and competition would drive up quality was "in many respects misleading and even simplistic".
It adds: "Higher education is a most imperfect market where choices are made for reasons that have nothing to do with quality or value for money."
A spokesman for the Department for Business, Innovation and Skills insisted its reforms were fair and affordable for the nation.
"We used Treasury assumptions about future levels of economic activity and wage growth in the modelling undertaken. The Institute of Fiscal Studies independently modelled the impact of these reforms and produced estimates very close to our own.
"Universities who want to charge more than £6,000 per year will have to meet much tougher conditions on widening participation and fair access. The government will publish a White Paper this winter, looking at wider issues of higher education reform."