University funding: Your views on rising tuition fees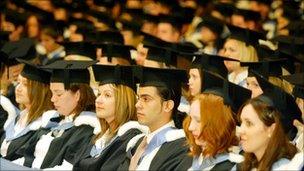 Fees will rise to £6,000 - with an upper tier of £9,000, if universities ensure access for poorer students.
BBC News website readers have been getting in touch with their views.
Colin Ashmore, parent in Scunthorpe
I have a son less than two years away from university, and we have been budgeting for years to give him the financial support to go to the best university possible. He has aspirations to go to an Oxbridge university to study medicine and I would imagine these universities will be the ones with the highest fees.
My son is already in the top one percent in the country academically, and is being mentored by Oxford University.
I am in an awkward situation as I have recently retired, and while I have some savings if I use these to pay for my son's education, we will no longer have a comfortable retirement.
But it is not just us, these fees will be unachievable for many working class parents like ourselves, and I believe they will create a two tier system of those who have gone to university and those who have not.
I would ask MPs who paid their fees?
Sarah Marten, parent in London
I have a 13-year-old and a 15-year-old who both want to go to university.
I had saved up some money for each of them to go and thought those savings would pay their fees for three years. Now it looks like it will only pay for one year.
The whole situation is very worrying, and no-one is talking about the effect this will have on teenagers' aspirations, everyone is talking to students who are at university now.
My children may have to go to different universities because of the tiered funding system, and they may even have to live at home and study in London instead of going away to university.
This will be an important time for them, leaving home and going to university is a rite of passage and a completely different experience. I feel disappointed and angry about the proposals.
Schools are very much geared up to telling students that higher education is the best option for them, but with debts this large, housing costs so high, and another 9% or so to pay once they reach £21k, this just may not be the best option. Added to that this year's graduates have been lucky if they have been able to secure any work at all.
I don't think that the burden of meeting the shortfall of university funding should be down to the students.
The Liberal Democrats have completely changed their policies on higher education funding.
I think this will be a very bad situation for higher education in the UK.
Simon Day, agrees with the fees increase
I welcome this news. The simple solution to funding is to cut the number of "joke" degrees at "joke" universities and to reverse the trend of encouraging more and more people to go to university.
This trend does not increase social mobility but simply promises the world to everyone, and that cannot be delivered.
Cutting the number of courses, universities and places will increase standards and enable those actually worthy - academically - of a university education to be properly funded at a proper university. I don't believe that people should be selected on the basis of social class or a set of equality targets.
When I went to university to study for my law degree, I funded myself through student loans. If I was going to university today, I would still go ahead, because for me university was about furthering my career and I saw it as an investment.
I don't agree with going to university just for the sake of it. Why should the tax-payer fund this? These people should study something vocational that will produce something for society.
I won't necessarily be affected since I'll be graduating next year, but my two younger sisters will be. I thought university fees were sky high at £3000, but £6000? Are you having a laugh? My two sisters won't even be able to go to university because that's just too much debt to start your life with. I agree with the head of NUS that it is, as he says, an "outrage". We come from a Pakistani cultural background and, as people who know the culture will understand, you have to have a degree for someone to even take a second look at you in our community. Well, that's my sisters' future gone before it's even started isn't it? I am in £16,000 worth of debt at the moment thanks to university, and if my sisters manage to go university, I don't even want to think of the weight they are going to have on their shoulders. Ayesha, UK
As a student in year 12, I will be the first year to be hit by these increases. I think that the government, particularly the Lib Dems, have disillusioned a number of young people and their families. Surely at times of austerity, like now, the government should be doing what they can to invest in young people, as, after all, they are the future of this country. The increases could be justified if there was going to be a clear increase in teaching and resource quality, however, there has been no definitive guarantee that this will be the case. If the government is trying to win over young people, they are not going about it the right way. Michael Tweed, Sutton
My children, although likely to get a good range of A*s at GCSE will simply be unable to afford to go to university. We struggle as it is to support the one already there. This government is not investing in the future of Brits. Universities will become full of wealthy overseas students and those from the very richest and very poorest in our society. Middle England is dying! Mum, Herefordshire
This is getting ridiculous. I'm currently on my gap year with a place at Royal Holloway, University of London for 2011. However, this year I've applied to universities in America and now I have even more reason to pray I get a place - it could easily work out to be much cheaper. A friend is applying to uni in France. So the hikes in tuition fees are going mean a serious drop in UK university attendance whether students go abroad or just don't go at all. Tia, Plymouth
Although the top up fees will not affect me directly - I graduate this year - they will affect my younger brother. However, I am a supporter of the increase in fees. The excess is extortionate, but there does need to be some deterrent as there are now far too many people attending universities many of whom could be applying valuable skills elsewhere. Kat, Manchester
As you explain, this is not the same as a credit card or mortgage debt. The repayment is 9% of income above £21K. Many people still haven't grasped this. Jon, Manchester