University warning over 'misplaced' cuts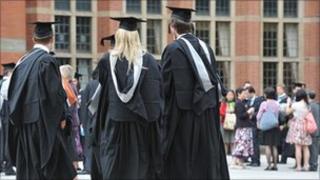 Severe cuts in university budgets could see the UK lose its position as a world leader in education, a report warns.
Universities UK said "misplaced and mistimed cuts" would impact on future economic growth and prosperity.
In its submission to the government's comprehensive spending review (CSR), UUK urged ministers to cut cautiously.
The report comes as universities and students wait to hear the recommendations of Lord Browne over the future funding of universities.
It is widely expected Lord Browne's independent review will recommend next week that students pay more in tuition fees, currently capped at £3,290 a year, or face some kind of graduate tax.
UUK's submission to ministers, ahead of the CSR on 20 October, notes that the Treasury has asked government departments to look at cuts of between 25% and 40% by 2015.
If this was to happen, universities could see their overall income fall by between £4.1bn and £6.6bn in cash terms.
Introducing the document, UUK president Professor Steve Smith said his "biggest single worry" was that cuts would be carried out in the CSR, but parliament would then fail to back Lord Browne's recommendations for a system that would deliver replacement funding.
The Liberal Democrats campaigned on a promise to abolish tuition fees, and many of the party's MPs have pledged to oppose any rise - although they are permitted to abstain from a vote under the coalition agreement.
The UUK document repeats the organisation's policy recommendation that higher earning graduates pay back their student loans at a higher interest rate.
Student loans are currently heavily subsidised for all graduates.
The UUK report says: "The UK currently has the second strongest university system in the world, but as the latest global rankings make clear, this position could be at risk if we do not invest now."
It goes on: "Universities will continue to do all they can to minimise the impact of any funding cuts on the front line services they deliver.
"As the body representing these institutions, Universities UK will work with government to promote understanding of how to maximise the innovation and responsiveness inherent in the sector to deliver the short-term outcomes that the country needs at this difficult time - both value for money and renewed economic growth.
"But government should be in no doubt about the risks that misplaced and mistimed cuts in public funding would pose to the world-class standing of our higher education system, and thus to the country's future economic growth and prosperity."
'Important role'
Professor Smith said: "The UK's competitor economies face the same deficit reduction challenges as we do, but they have decided to invest in higher education at this crucial time, not cut it.
"This is because they recognise the importance of universities to the future growth of their economies.
"Higher education also has an important role to play in promoting an equitable society through the opportunities to study at university.
"It is imperative that we maintain this commitment to help people improve their future prospects."
A spokesman for the Department of Business, Innovation and Skills said the government could not speculate on the spending review, but it was important to be clear that the current university funding system is "no longer fit for purpose".
The government would judge Lord Browne's proposals "against the need to take into account the impact on student debt, ensure a properly funded university sector, improve the quality of teaching, advance scholarship, increase social mobility and attract a higher proportion of students from disadvantaged backgrounds," the spokesman said.