Legal challenge against axing of school building plans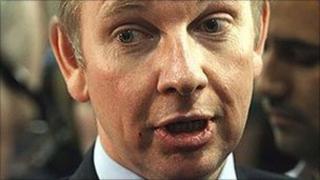 Three councils in England are mounting a legal challenge to the government's decision to scrap the Building Schools for the Future programme.
Education Secretary Michael Gove shelved the £55bn programme - scrapping about 700 proposed school rebuilding projects.
Nottingham, Luton and Waltham Forest councils are all seeking a judicial review.
The government said the rebuilding programme had not been efficient.
When the Building Schools for the Future (BSF) scheme was halted, it meant rebuilding or improvement projects being cancelled in local authorities across England.
Legal advice
Mr Gove had to apologise about the confusion over which projects were being scrapped, as the initial list contained mistakes.
Local authorities and construction companies were also angered that they had spent money in planning new schools which were then scrapped.
Councils estimated they had wasted £160m in cancelled projects - and the construction industry complained they had lost £100m.
Waltham Forest says it had already spent £17m on school rebuilding plans that were then axed.
Councils now want to mount a legal challenge to reverse the cancellations.
Nottingham City Council is requesting permission to apply for a judicial review of Mr Gove's decision to stop funding for Top Valley and Trinity schools and Top Valley Learning Centre.
The authority claimed it was contrary to the council's legitimate expectation that the funding would be forthcoming after the outline business case for the three schemes was approved in February.
Challenging decision
It also claimed the decision was irrational in arbitrarily using 1 January 2010 as a cut-off date for stopping funding of BSF projects and requested that the court quash the decision so the schemes receive the funding expected.
David Mellen, the council's portfolio holder for children's services, said: "The council has explored a number of options in order to secure funding to carry out the planned remodelling of Top Valley and Trinity schools which have been stopped.
"We have sought counsel's advice on whether to take legal action to resolve this dispute and our decision to push ahead with legal proceedings has not been taken lightly."
He added: "Our decision to take legal proceedings demonstrates our commitment to taking whatever actions are necessary to overturn the decision."
He also said the council would have preferred a negotiated solution but had received no response to requests to meet Mr Gove.
'Cavalier' decision
Officials added they were trying to minimise the cost of the legal proceedings by taking the action jointly with Luton council, which also had BSF projects stopped.
Waltham Forest's council leader, Chris Robbins, said: "The government's decision to cancel the BSF projects in Waltham Forest is having a catastrophic effect on our pupils and staff and we've been doing everything we can to persuade them to change their minds."
Shadow Schools Minister Vernon Coaker said it was "right and proper" for the councils to challenge a decision that was taken in a "cavalier fashion".
"If the education secretary's decision is overturned it would be a huge embarrassment for him since he insisted on rushing this decision despite advice that a legal challenge was a real risk," Mr Coaker said.
'Urgent demand'
"Parents, pupils and teachers are shocked that Michael Gove took the decision to scrap school building projects in over 700 communities.
"The impression created is that this was done in a reckless and irresponsible way and if the court agrees then Mr Gove will need to explain himself."
A Department for Education spokesman said: "We understand people's disappointment but the BSF programme was wasteful, needlessly bureaucratic and seriously behind schedule.
"It would have been inexcusable to have continued with the programme. Ministers have been clear that the end of BSF is not the end of school rebuilding.
"That is why the government has launched a comprehensive review of all capital spending in schools so that money goes to those schools in most disrepair and to deal with the urgent demand for primary school places."