University gives students text books on iPhones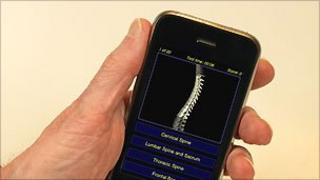 More than 500 medical students at the University of Leeds are being issued with iPhones which can access online text books.
The smartphones have applications providing students with reference material and prescription guidelines.
The university, claiming a first for UK medical schools, says the phones will also be used to keep in contact with students training in hospitals.
The devices will have to be returned when students graduate.
All fourth and fifth year medical students at the university are going to be given iPhones.
Mobile library
These students will be spending time away from campus, working in places such as hospital wards and GP surgeries, and the iPhones will be loaded with reference information to help their training.
The applications, supplied with the phone, will provide instant access to "key medical text books".
It will also be a mobile way of recording notes on the ward and keeping in touch with tutors.
The university says the iPhone package and connections will cost £380 per student, which it says is a fraction of the £50,000 per year which it says it costs to train a doctor.
Using the iPhones is a cost effective way of ensuring that students have the text books they need "at any time of day or night, wherever they are working", says the university.
Professor David Cottrell, dean of the medical school, says it is "putting a whole suite of training tools and educational resources in the palm of their hand".
If the phones are lost or stolen any information held on them can be wiped remotely - and they will not have access to confidential patient databases.
Universities have begun to use smartphones more widely, both in giving campus information to students and as part of delivering courses.
There are applications designed to help new students starting at university. Last year the University of Central Lancashire in Preston introduced an application for freshers, with maps, information about services and local transport.