Dropping a single A grade 'could mean no university'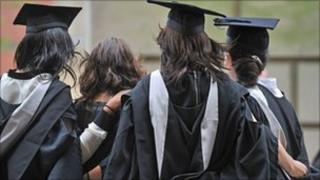 Pupils predicted anything less than an A grade at A-level could miss out on university, say private school heads.
Bright students seeking the most competitive course places were particularly at risk if they "undershot" by a grade, the Headmasters and Headmistresses Conference heard.
HMC vice-chairman Andrew Grant says there is concern about the tough competition for places.
By mid-September, 474,746 of 685,070 university applicants had places.
Mr Grant, headmaster of St Albans School, Hertfordshire, said: "There is unusual concern over the A-level predictions just at the moment. We're seeing a real concern that anything less than an A is going to mean no chance of a place next year."
'Undershot'
The most competitive universities are faced with many pupils predicted to achieve top A-level grades - and many who also achieve them. Dropping a single grade can mean missing out on these most sought-after places.
Half the A-levels taken by pupils at independent schools in the UK were graded A or A* this year.
Mr Grant said of this year's applications: "I think across the sector there were some surprising paradoxes whereby a high-flying candidate who accepted, because they were the only offers he or she got, 3A offers, or maybe A*AA and end up with AAB, therefore got nowhere, and ended up with an enforced gap year whereas a lower flying candidate who accepted BBB and an insurance of BBC is home and dry at university.
"So it's been very hard on the high flyers who just undershot."
Tim Hands, co-chair of the HMC's university committee, and master of Magdalen College in Oxford, said there was "anxiety through lack of knowledge" about the basis on which universities will decide to make offers.