Anger grows as diploma support wanes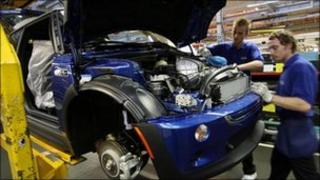 Schools and colleges are being urged to mount a "rearguard action" to defend 14-19 diploma courses in England for the sake of the tens of thousands of students who have opted to take them.
Diplomas were introduced by the last government to provide academic learning in a vocational context with the aim of motivating students who prefer a more work-related learning style.
They cover subjects like engineering, construction, business and travel and tourism but students must also pass a test of "functional skills", covering numeracy and literacy.
At a gathering in London this week, supporters of the diplomas expressed anger that the new qualification is, as they see it, being left to wither on the vine by the coalition government.
Their frustration was increased by new figures, just published, showing that students applying to university this summer via the diploma route did as well as others in winning places.
Schools, colleges and local authorities, representing thousands of diploma learners, said they wanted to keep courses going but feared the future government funding would make that "really tough".
Michael Hatfield, assistant principal at Trent Valley Academy, Lincolnshire, said that "educationally the diplomas are brilliant - just the sort of experience we should be delivering for our pupils".
In particular, he said, the diplomas had "attracted white, working-class males in our consortia and are moving them forward".
But, he added, "it's making me quite angry" that they are now under threat.
There was anger too from those representing employers. Bill Sutton, project manager at Semta, the sector skills council for science, engineering and manufacturing technology, said the engineering diploma was so successful that students were being "head-hunted" by employers.
He said: "I would hate to see the engineering diploma going. Talk about anger - I need counselling!"
This summer almost 4,400 students completed their diplomas.
And, although the government has not yet published the most recent figures, a source in the Department for Education estimated that close to 40,000 students have started diplomas since they began three years ago.
However, take-up has been lower than the last government hoped.
Supporters say this is partly because the requirement to pass in "functional skills" makes the courses more demanding than other options.
Since the election, though, the government has trimmed diplomas. The 14 existing "lines of learning" remain, but ministers scrapped plans for a further three "academic" diplomas, covering science, modern languages, and humanities.
Ministers also abandoned a proposed "extended diploma", dropped a planned "entitlement" for all pupils to be able to choose any diploma course, and cut the marketing and support budgets for the new qualification.
The government has also just launched a review of vocational education, led by Professor Alison Wolf.
All this has left students and parents worried about the qualification's long-term fate.
Last month, Schools Minister Nick Gibb said: "There will be a place for the diploma as long as there is demand for it. It will be for schools and students to decide whether it is the best qualification for them."
He said the government would "look carefully at how these qualifications are viewed by employers and universities".
'Promising'
This week brought the first hard evidence of the value of diplomas for university entrance.
The head of Ucas, Mary Curnock Cook, revealed there were 743 applications to universities from students with Advanced Level diplomas this summer.
Of these, 89% received at least one offer of a university place and 65% took up places this autumn.
These figures were "very much the same profile" as for A-level candidates, she said.
Looking ahead to next year, she announced that 232 higher education institutions have indicated they will accept applications from students with diplomas.
She acknowledged that some universities were not yet fully familiar with diplomas but this was "a really promising start", in view of the fact there are still only about 5,000 applications from International Baccalaureate students, a qualification that has existed for 20 years.
'Shaken'
However, it seems schools will have to work hard to overcome doubts about the future currency of diplomas.
David Turrell, head of the Sir Bernard Lovell School in Gloucestershire, where 90% of eligible pupils are taking diplomas, said parents "were shaken a little by what they had heard and we have had to reassure them".
Despite this, he said the local consortium of schools and colleges, the Kingswood Partnership, would continue with diplomas and already had 1,000 pupils signed up for courses.
But he said the anticipated loss of the funding premium for diplomas would make it "very difficult" as some diplomas "are just more expensive to run and some cannot be done with the same class sizes as GCSEs".
Financial concerns aside, many think the government's changes could actually help the qualification.
Sue Kirkham, of the Association of School and College Leaders, for example, believes the diplomas were too complex and too bureaucratic and that they will benefit from some of the recent changes.
Isabel Nesbit, head of the exams watchdog Ofqual, also told the conference that the changes meant there was now more flexibility, which allowed schools just to retain the best of the diploma.
Others welcomed the fact that schools could now concentrate on those subjects that best suit their students without having to offer the full range of diplomas.
Gareth Griffiths, head of curriculum at the Young People's Learning Agency, caught the mood of the gathering when he said the future of diplomas was now all down to individual schools and colleges, which would "have to fight a rearguard action to defend the diploma".
Mike Baker is a freelance writer and broadcaster specialising in education. www.mikebakereducation.co.uk