Michael Gove orders a review of music teaching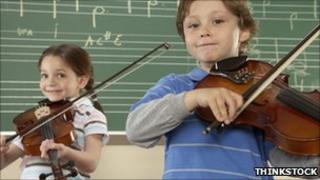 Education Secretary Michael Gove has launched a review of music education, saying all children should have the chance to learn an instrument.
The education department said quality music education helps improve concentration, behaviour, numeracy and language.
Darren Henley, Managing Director of Classic FM, is to head the review.
Mr Gove said it was a "sad fact" that many state school children do not get the opportunity to learn an instrument.
In a letter to Mr Henley, Mr Gove said the review should prioritise the use of public funding to give every child the opportunity to learn an instrument and to sing.
He said it should look at ways to improve classroom teachers' skills and confidence in giving music lessons - something the education watchdog Ofsted has criticised.
Pupil premium
The letter also said music and cultural activity could further "aspirations for the Big Society" - Prime Minister David Cameron's vision for a society with increased citizen involvement and responsibility.
And it asked Mr Henley to examine whether the "pupil premium" - a plan to give extra funding to schools for every pupil they take from a deprived background - could be harnessed to use music to driver wider improvements in schools and communities.
"It's a sad fact that too many children in state schools are denied the opportunity to learn to play a musical instrument," said Mr Gove.
"Evidence suggests that learning an instrument can improve numeracy, literacy and behaviour. But more than that, it is simply unfair that the joy of musical discovery should be the preserve of those whose parents can afford it," he said.
The Federation of Music Services, which represents local authority music services across the UK, welcomed the review.
Chief Executive Virginia Haworth-Galt said the FMS was "enthusiastic about exploring new ways to improve the planning and the cost efficient delivery of music in schools and the community".