'Crazy chemist' drugs campaign criticised by scientists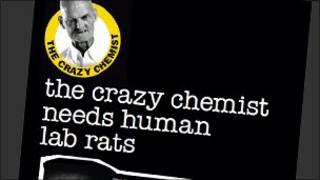 A government anti-drugs campaign featuring an image of a "crazy chemist" dishing out harmful substances has been criticised by scientists.
The Royal Society of Chemistry said the posters, warning students about the dangers of legal highs, use a "lazy stereotype of the chemist as unhinged scientist".
It has called for them to be withdrawn.
The Home Office said its character was clearly fictional and resonated well with young people.
It added that it made the point that these drugs were being developed by unscrupulous dealers using dangerous chemicals.
But the Home Office says on its website that the posters and postcards being distributed around universities feature "an eye-catching and menacing scientist" to convey the unscrupulous nature of people who create and sell such substances.
The RSC's director of science and education, Jim Iley, said it was totally irresponsible that the government had decided to use such an image for its important campaign.
"Chemists in the UK and elsewhere invest significant amounts of time to use chemistry to solve health-related issue and, consequently, improving people's lives," he added.
"Rather than reinforcing unhelpful stereotypes, the government needs to be sending a clear message that we need chemists because they are able to offer positive solutions to the issues facing our society, not contributing to them.
"The people dealing in legal highs in towns and cities are not chemists and should not be referred to as such."
'Legal but dangerous'
He said that his organisation would have been happy to have given its advice on how best to tackle this issue.
Launching the campaign, minister for crime prevention James Brokenshire said: "The legal highs market is changing. Unscrupulous drug dealers constantly try to get around the law by peddling chemicals, which are often harmful, to young people.
"Through this campaign we want to send a clear message to anyone tempted to try a new drug, that just because something is advertised as 'legal' does not mean it is safe and it may already be banned.
"There is increasing evidence that substances sold as 'legal highs' often contain harmful illegal drugs."