Scottish universities in survey blow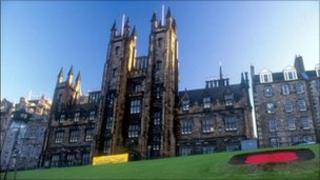 Only one Scottish university has featured in a survey ranking the world's top 100 higher education institutions.
According to the Times Higher Education magazine, Edinburgh - which made the top 20 last year - now lies in 40th.
St Andrews, the only other Scottish university to do relatively well, is now outside the top 100.
The publication said the survey was based on more complex criteria than last year.
It gave top spot to Harvard in the US and England had three universities in the top 10.
The magazine said the survey's methodology was more sophisticated than last year, looking at the full range of a university's activities, such as teaching, research and knowledge transfer.
'Accurate picture'
Phil Baty, deputy editor of Times Higher Education, said the new methodology provided "an accurate and reliable picture of global higher education".
He added: "Because of the change to the methodology, any movement up or down since 2009 cannot be seen as a change in performance by an individual country or institution.
"We do contend, however, that these tables are realistic, and so in some cases they may deliver an unpleasant wake-up call that the days of trading on reputation alone are coming to an end."
The umbrella body, Universities Scotland, said the survey confirmed the case for continued public investment in higher education.
A spokeswoman said: "Higher education competes in a world market and this latest table shows just that we are operating in a highly competitive environment.
"There are plenty of countries across the world which are snapping at our heels and are continuing to invest even in the face of cuts. It is vital that we continue to make the case for continued public investment in universities."