Commercial pressures 'will shut a UK university'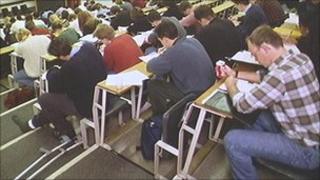 Nine out of 10 university leaders believe a UK university will shut down because of financial pressures in the next decade, suggests a survey.
Researchers examined deputy vice chancellors' views about an increasingly competitive commercial environment in higher education.
They overwhelmingly believed it would mean that some institutions would be forced out of business.
Universities are expected to face further budget cuts in the autumn.
Although universities have merged, moved or changed their identity, so far none of them have been forced to close completely.
Funding shortfall
But the study, Degrees of Change, carried out by Berkshire Consultancy, suggests that universities are expecting to see the first of such closures.
In particular, deputy vice chancellors of new universities anticipated that "some universities will go under because of commercial pressure".
Even among Russell Group universities, nine out of 10 deputy vice chancellors expected to see closures in the higher education system in the next 10 years.
In the short term, two-thirds expected a "significant shortfall in funding" for universities.
After a period of sustained growth, universities are now facing a more uncertain financial future.
There have been warnings that they will face substanitial cuts in the comprehensive spending review - and they are still waiting to hear what they might gain from any increase in tuition fees.
Students are now becoming more consumer-aware, and the survey suggests that universities have still to adjust to the idea of students as customers.
It found that almost two-thirds had no strategy to develop a "customer service culture".
Particularly in the more traditional universities there was resistance to a "commercial approach".
The findings are based on a sample of 30 deputy vice chancellors, from a range of types of university.
The report concluded that the changing financial landscape was being seen within universities as a "real threat to the future of the sector".
A report last year from the Policy Exchange think tank called for weak universities to be allowed to close or be taken over by the private sector.
The think tank argued that the "no-fail policy" in which no university was allowed to close meant that there was no genuine market or incentive to avoid failure.
The university sector's current worries about money follow a long period of growth in higher education.
Universities UK has published figures showing the expansion in higher education - with enrolments rising by more than a quarter in the past decade.
Overseas students coming to UK universities from outside the European Union have doubled in number in the same period, with China the biggest single provider.