School admissions changes considered to favour poor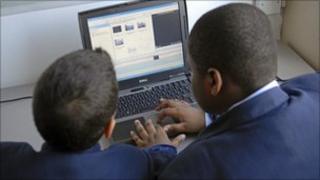 Ministers are considering allowing some schools in England to change their admissions procedures to favour children from poorer families.
The proposal could result in academies putting those who receive free school meals ahead of those who live nearby.
The idea is being discussed by the Department for Education.
A source close to Education Secretary Michael Gove says it is designed to reduce the gap in achievement between poorer children and better off pupils.
'More cash'
The source told the Press Association: "The central aim of the government's education policy is making opportunity more equal.
"As part of our commitment to helping every child do better we're introducing a pupil premium, which will mean more cash for the poorest children in all our schools.
"And we're exploring how schools which wish to target their efforts on helping the poorest can be helped."
Mr Gove is understood to have asked his department to "examine the feasibility" of introducing the admissions policy for the government's new free schools and academy schools only.
Separate proposals for the pupil premium will mean less-well-off children attract higher funding, so schools taking more of them would see their incomes increase.
It would see up to £2,000 of extra funding made available at a school for each child who is eligible for free meals.
The government is expected to consider the plan for several more months before formally launching it.
'Gimmick'
Shadow Childrens and Education Secretary Ed Balls said, if the government was serious about academies serving children from poorer backgrounds, it would have continued with Labour's previous policy.
"Labour's Academies were focused on transforming under-performing schools, often in disadvantaged areas, and had a higher proportion of children on free school meals than the national average.
"But Michael Gove's new Academies have been distorted to focus on schools which are already doing well and in more affluent areas.
"If the pupil premium turns out to be a token amount of money compared to existing deprivation funding, extra funding on top of a smaller budget, or paid for by cutting other programmes that help the most disadvantaged children then this announcement may turn out to be little more than a gimmick."
'Revolutionise school intakes'
Martin Johnson, deputy general secretary of the Association of Teachers and Lecturers, said: "There is a lot of difference between 'allowing' and 'requiring' popular schools to give preference to children receiving free school meals.
"Making schools favour poorer children would revolutionise school intakes, but if schools are left to make their own choices few would give preference to disadvantaged pupils because, on the whole, educating them is much more demanding as many need far more help and resources.
"For the same reason, the pupil premium will not change schools' attitudes to admissions."
Sally Copley, head of UK policy at Save the Children, said: "It's simply wrong that, at every stage of schooling, the poorest children do worse and make less progress than their better-off classmates.
"Key to breaking the attainment gap is the idea of 'pupil premium' the coalition government has signed up to.
"We believe the government should set this at an extra £3,000 for every disadvantaged child. That would double the weighting such children currently receive and give them a much better chance of fulfilling their academic potential."
Last month, Barnardo's said schools should be required to take pupils in different ability groups in equal numbers to help poorer students succeed.
The children's charity claimed its proposal, known as "fair banding", could reduce social segregation in the school system.
It has long been argued that middle class parents are more able to "play" the admissions system than those from poorer backgrounds.
Mr Gove has said England has an "unbelievably complicated" schools admissions system, and a fair-banding system "had a role to play" in future.