Student fee 're-branding' warning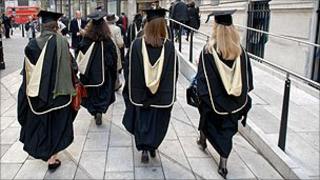 Students and university leaders have backed a graduate tax to fund universities in England.
But they have warned against any attempt to present a "graduate contribution" - with a variable tuition fee - as a form of graduate tax.
Million+, representing new universities, says a 1% tax on graduate earnings above £15,000 would allow for the abolition of tuition fees.
Student union leaders say a graduate tax cannot incorporate tuition fees.
The review into higher education funding, chaired by Lord Browne, is set to deliver its recommendations next month.
Fees versus tax
A report from Million+ calls for the introduction of a graduate tax, in which students would pay a higher rate of taxation after they had graduated and begun working.
The university group argues that this would be a fairer and more efficient model for supporting students and universities.
Business Secretary Vince Cable, who has signed a personal pledge to oppose an increase in tuition fees, has also raised the idea of a graduate tax.
But Conservative partners in the coalition government have appeared less enthusiastic about an additional tax.
As such the language of tuition fees and graduate taxes has become increasingly sensitive for the coalition.
Ministerial speeches about student funding have referred to "graduate contributions".
But the Million+ group and the National Union of Students have now emphasised that if such "graduation contributions" include a price tag for fees they should not be presented as a graduate tax.
"In recent public statements, some politicians have suggested that a graduate contribution system is the same as a graduate tax. This report makes clear that the two are not the same," says a statement from Million+.
"The real question is whether coalition ministers and MPs are willing to consider a graduate tax or whether ministers have created a smokescreen to distract attention from the likelihood that students will be faced with higher fees and a highly differentiated market as a result of cuts in public funding," says the group's chief executive, Pam Tatlow.
The NUS has also set out a series of tests which would define a payment system as a graduate tax.
This includes the proposal that graduates would make payments through taxation, based on a fixed percentage for a fixed period of time - and that there would be no "sticker price" figure for tuition fees or market in different fees between institutions.
Backing the call for a graduate tax, NUS President Aaron Porter says: "It is encouraging that some university vice chancellors are willing to genuinely re-think university funding to ensure that students are properly supported and that financial contributions are determined by real earnings.
"These proposals are both fair and sustainable. There is absolutely no excuse for Lord Browne and the government not to seriously consider them as a genuine alternative to the broken and discredited system of tuition fees."