Top A-level grades and no options left but signing on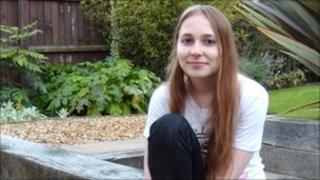 Amber Fox is 18, with impressive A-level results, but is on the verge of signing on.
Just three weeks ago she received her results: 3 A-stars and one grade A.
But she failed to secure a university offer, or a place through clearing, for her chosen course - medicine - so now she is in the job market and finding it very competitive.
"I know it's tough because I'm competing against people with more experience than me. I'm really depressed, I may have to sign on," she says.
Amber, who lives in Milton Keynes, plans to reapply next year. But with tens of thousands of disappointed would-be students seeking opportunities, together with the effects of the recession, experts are warning that young people across the board are finding their options narrowed this year.
Dead ends?
Universities and Science Minister David Willetts said he felt sorry for the students who didn't get into university and pointed out that the current administration had made 10,000 more degree course places available.
He has highlighted alternatives for disappointed A-level students: enrolling with Further Education colleges and applying for one of the 50,000 new apprenticeships announced by the government this year.
But Radio 4's The Report has uncovered concerns about the viability of these two potential points of refuge.
The FE sector provides two-year foundation courses that allow a transition to a degree and so offer potential solutions for students with A-levels.
However, according to John Widdowson, principal at New College Durham and chair of a cluster of FE institutions, the FE sector is not in a position to offer places to all failed university applicants.
Mr Widdowson points out that his higher education places were subject to the same government cap that caused the university shortfall in the first place.
He said his institution had already turned away a limited number of students.
"It goes against the grain to be turning away well-qualified, enthusiastic students and say 'I'm sorry, we haven't got a place for you,'" he said.
Mr Willetts said the government would increase spending on buildings and equipment at FE colleges by about £50m and would allow colleges greater freedom to transfer money between different parts of their businesses to enable them to cater better for students.
The other route the government suggests for those A-level students who could not get into university was to sign up for one of the new apprenticeships that it said it had created.
However, the BBC has ascertained these apprenticeships will only exist once an employer has signed up to the scheme.
The government will pay £3,000 over 12 months towards the training of the employee, but that still leaves the employer to pay the wages of a new staff member.
The chairman of Warrington-based Fairclough Construction, Martin Budden, says the company has been reducing the number of apprentices it takes on during the recession.
"As a broad rule of thumb we'd have 15, 10% of the workforce. Last year we took on four and this year we've only taken on two as workload is 20% down."
He adds that the new deal is unattractive and until the economy improves they would not take on any more apprentices "even if they were free".
"If you look at any business, doesn't matter if it's construction, you only have a demand for employees if you are doing more business," he points out. "The fact the government has an initiative isn't a driver for us".
Downward pressure
The government says it is confident that it is on course to meet its apprenticeships target and that industry has shown strong interest since the 50,000 extra posts were announced.
But figures on progress so far are not yet available.
Recent research by the Institute for Public Policy Research indicated the chances of young people with A-levels ending up not in education, employment or training, as so-called NEETs, has increased by 40% since the recession began.
Rathbone, a charity that helps young people back in to work, says it is seeing a rise in highly-educated young people asking for help.
Paul Fletcher, Rathbone's director of policy and development, says he is most concerned about the impact that so many job-hunting A-level students will have on those young people who are leaving school with few qualifications.
"Graduates are chasing the jobs the A-level students were taking, the A-level students are chasing the jobs the young people with five GCSEs would be taking, and the young people with no qualifications are being squeezed by this very strong downward pressure on jobs and forced into the shadows."
Shirley Ellis, 17, is one of the young people being helped into work by Rathbone.
After concentrating on improving her maths and English she has a clear goal to get a job in care work.
Yet Shirley is well aware that the job market is now flooded with people with experience and glowing qualifications.
"It's pretty difficult at the moment because there are others with better qualifications, so they'll just go for them," she says.
Morland Sanders' The Report was broadcast on Radio 4 on Thursday 9 September at 2000. You can also hear it on the iPlayer.