Willetts signals way in for private universities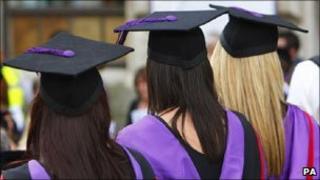 Plans to let more private universities into England's higher education system could feature in a new Higher Education Bill, a minister has said.
David Willetts signalled a major shake-up would come after the government had responded to Lord Browne's review of higher education funding.
He also said young people would be "let down" if graduate contributions did not increase.
But he did not say whether he favoured tuition fees or a graduate tax.
Mr Willetts told university vice-chancellors meeting at the annual Universities UK conference in Bedfordshire that he would not pre-empt Lord Browne's independent review, which is due to report in October.
Universities UK president Stephen Smith warned many universities were concerned they "could face a triple whammy" of spending review reductions, a "funding valley of death" (if there are delays and political wrangling over Lord Browne's recommendations) and restrictions on recruiting international students.
Mr Willetts was clear that, in the current situation, asking graduates to pay more was preferable to reducing student numbers or reducing the quality of courses.
'Natural response'
He said: "What would not make sense would be to fail to increase the contribution from graduates, with the result that then we jeopardise the student experience or end up having to make big cuts in student numbers.
"That would be to let our young people down."
And he warned that funding was not the only issue to be resolved. The position on private providers also needed re-examining, he said.
Mr Willetts has already allowed London-based BPP, which has 14 regional branches, to become a university college.
But this is the firmest indication of changing legislation to allow for a greater role.
Profit-making higher education providers were becoming more significant internationally, he said.
They were a "natural response to the global hunger for higher education and better qualifications," he added.
'Shareholders' interest'
There are already specialist private institutions offering degree courses where students can get government financial support.
But there are only a handful of private institutions offering the range of courses of the kind associated with a traditional university, with the most prominent being the University of Buckingham.
The issue, and the government's response to the Browne review, which will set out whether the cap on tuition fees is to be raised, would form part of a Higher Education White Paper, he said.
This would then lead to a Higher Education Bill, hopefully to be laid before Parliament in the autumn of 2011.
Sally Hunt, head of the UCU lecturers' union, warned against a greater role for private universities.
She said: "What the for-profit universities do possess is a commitment to their shareholders to make a profit, a commitment only made greater if their shareholders include private equity firms.
"In a world where young people are being locked out of the higher education system by slashes to government funding, our legitimate concern is that UK students will fall prey to the kind of mis-selling and profiteering scandals currently rocking the for-profit university sector in the United States."
In the past, the Conservatives' Lib Dem partners in the coalition government pledged to abolish tuition fees in England. But this position is not shared by the Conservatives.
And there is concern that a prolonged dispute over the government's response to the Browne review could leave universities starved of cash at a time when their funding has been repeatedly cut.
Students from England, Wales and Northern Ireland pay fees of £3,290 a year, for which they take out loans, repayable after their income reaches £15,000.
There are no fees for Scottish students studying in Scotland.
Business Secretary Vince Cable has suggested a graduate tax linked to postgraduate salaries as an alternative to raising tuition fees.