Digital technology should be university 'priority'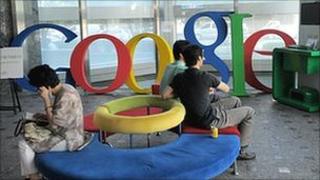 Creative digital technologies must be a "national priority" in UK universities, says an industry and university report.
The UK should be trying to nurture ideas for online businesses like Facebook and Google, says the Council for Industry and Higher Education.
The promotion of so-called Stem subjects, including science and maths, should be extended to digital technology, says the council's report.
It says digital industries will soon represent a $3tn (£1.9tn) market.
The report wants to target support at creative, digital and information technology (CDIT) subjects - with the aim of cultivating businesses in digital industries of the future.
Crossing boundaries
It says that the development of Silicon Valley, which provided a cradle for computer industries in the United States, was underpinned by public investment.
The government and funding authorities have made a priority of Stem subjects - science, technology, engineering and maths - including additional university places.
This has been in recognition of the subjects' strategic importance for the economy.
But the Council for Industry and Higher Education (CIHE) says the UK now needs to invest in the development of digital industries.
Otherwise the report's editor, David Docherty, says the UK risks "trailing behind countries such as China, the US, Japan and Australia".
Mike Short, O2's vice president of research and development, says that digital industries require skills and types of creativity that cross boundaries between arts and sciences.
"We know that these businesses are going to be very important," he says, but they do not fit within any "rigid boundaries" between Stem subjects and the arts.
Digital businesses are a fusion of entertainment, engineering, retailing, design, technology and art - and as such need a different kind of support from the backing given to Stem subjects.
As such the report urges support for inter-disciplinary university projects - including arts and humanities, which integrate with science and technology in digital businesses.
The report calls for start-ups to be given research and development tax credits and public investment to help encourage private funding.
It also calls for universities and their students to work more closely with small and medium-sized creative digital companies.
At school level it calls for a shake-up of the ICT curriculum which it accuses of "holding back" the development of creative digital industries.
"The fusion of technology with the creative and digital industries is as vital to the UK's economic growth as that of science, engineering and manufacturing," says the report.