Battle to preserve Asian languages in schools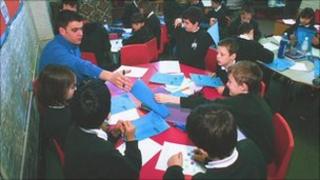 Some Asian families are struggling to retain their mother tongue as their children and grandchildren attend English-speaking schools. But complementary schools that teach children the language of their forefathers could be redressing the balance.
"My mother tongue and that of my children's is English and I'm proud to say that," says Zee, a second-generation British Asian and a mother-of-three from Birmingham.
Her children, nieces and nephews now only speak English, despite being brought up in an Asian family.
"You have to accept that we're British and our mother tongue is English, and it's unfortunate that our Asian language will perish one or two generations down the line," she says.
In the past Bangladeshi children were considered to fall behind in educational achievements.
But speaking both Bengali and English now appears to be improving academic development.
Primary school children who speak both languages tend to be "higher achievers", according to a study by Goldsmiths University. Their development improves, the research argues, if they use both languages in the classroom.
Dr Charmian Kenner, who carried out the study in Tower Hamlets, east London, examined the academic achievement of children who attended complementary schools to learn their mother tongue.
She said: "Children in Tower Hamlets are now achieving very well compared to the national average and a lot of that may well be because they are bilingual.
"We found those who were going to their Bengali school, and their Bengali was strong, they too were the stars in their primary school class and were the high achievers."
She said this was particularly welcome news, as in the past Bangladeshi children have been seen to struggle with learning.
In the year 2010-11, each pupil in Tower Hamlets is guaranteed £6,792 of funding per year. The English average for 2009-10 was £4,217.
Itesh Sachdev, professor of languages and communication at the School of Oriental and African Studies (Soas), believes that no more than 50% of the Asian community are maintaining their mother tongue.
He said South Asian languages were simply not valued as much in the UK as European languages.
"It's quite natural for people to say our languages don't have a value if they don't have a value in curriculum, the educational systems of this country.
"Then it's unlikely they will have positive associations amongst parents and others."
Perceptions may vary on the extent to which certain languages are valued in the education system.
But it is true that while the number of GCSEs taken in some languages spoken by UK residents, such as Arabic, Chinese and Polish, are growing, those taken in Urdu, Punjabi and Gujarati have declined in recent years.
Some families and Asian communities have worked hard at maintaining their mother tongue and have set up their own complementary and weekend schools.
The complementary schools movement is made up of grassroots, voluntary organisations which receive no government funding.
Many often take place in basic classrooms in the back rooms of temples, mosques and in community centres.
Anjali and Janaki attend a Gujarati school in Birmingham organised by the local community.
In their household it is a simple rule - only Gujarati is spoken.
Their mother Kirti said: "We must keep up our language.
"It's become a habit that they speak in English, but we correct them by saying, no, it's Gujarati we're speaking in.
"So we make them repeat the sentence again, and say it in Gujarati."
Professor Adrian Blackledge, head of bilingualism at the University of Birmingham, has carried out research into community learning.
He said: "There's no reason at all why Punjabi, Gujarati, Bengali or Urdu should not have the same educational status as other European languages such as French, Spanish or German.
"Linguistically there is no argument, but they are regarded as second-rate and this is simply down to ideological discrimination."
The 2011 census will for the first time include a question on language, which will give the clearest indication on which languages are being spoken in the UK.
You can hear more on this story in a special documentary called Mind Your Language on the BBC's Asian Network Reports radio show or via the BBC iPlayer.