Half of private school A-levels 'are grade A or A*'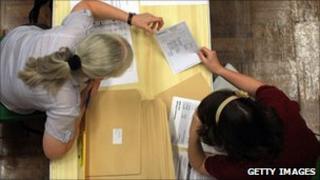 Half the A-levels taken by pupils at independent schools in the UK were graded A or A* this year, according to figures from the sector.
Almost one in five was awarded the new A* grade, says the Independent Schools Council, which represents the majority of independent schools in the UK.
Across state and private schools as a whole, 8% of A-level entries were graded A*, with 27% getting an A or A*.
About 6.5% of UK pupils go to private schools, rising to 18% among over-16s.
The ISC says 6% of its candidates (2,108 pupils) were awarded three or more A* grades.
It has released its league tables and data about some of the other qualifications taken by its schools.
At the top of the table for the third year in a row is Wycombe Abbey, a girls' boarding school in Buckinghamshire.
More than 50% of the school's exam entries were awarded one of the new A* grades.
Around 23 schools took the new Cambridge Pre-U qualifications this year and a further 43 took the International Baccalaureate, which is also taken by some pupils in the state sector.
The Independent Schools Council represents about 1,260 private schools across the UK.
Some schools, including Eton College and St Paul's in London, do not take part in the ISC league tables.