Watchdog to investigate alternative exams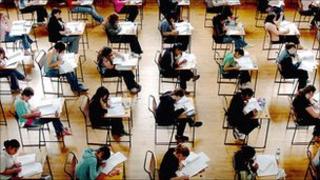 England's exams watchdog, Ofqual, is to investigate how A-levels and GCSEs compare with other qualifications.
It will look at vocational courses, and other alternatives to GCSEs and A-levels such as the IGCSE and the Pre-U.
Some vocational qualifications can count for as many as four GCSEs.
Critics of the system claim some schools opt for such courses instead of academic subjects to boost their league table positions.
The government has said it will reform the league tables and the school curriculum in England.
Education Secretary Michael Gove recently announced he was lifting the ban on state schools entering pupils for the IGCSE, which some independent schools favour over the GCSE.
He wants the qualification to be included in the league tables.
Announcing the investigation, Ofqual's chief executive, Isabel Nisbet, said: "With increasing choice in qualifications there is a growing need to investigate comparability between them.
"One of the roles of the regulator is to help learners, employers and teachers understand the similarities and differences across the range of qualifications available in an open market so that they can make more informed choices."
The watchdog says it will look at:
the "level of demand" of different qualifications
how many hours of work are needed
how much content
the level of detail
However, it will not be allowed to investigate the point scores allocated to different qualifications in school league tables. Ofqual says that is not part of its duties at the moment.
According to the Times Educational Supplement, a surge in demand for a vocational qualification called BTEC First has meant it contributed more to league table values last year than all the GCSE English and maths passes put together.
Depending on how many units of work involved, BTEC Firsts can be worth two or four GCSEs at A* to C.
England's league tables currently measure how many children at a particular school achieve at least five GCSEs, including English and maths, at grades of at least a C.
Flawed
The coalition government has made a pledge to "reform league tables so that schools are able to focus on, and demonstrate, the progress of children of all abilities".
In opposition, Mr Gove had spoken of the need for reform, saying: "The situation that we have at the moment is flawed and it's a situation which leads students, particularly in weaker schools and particularly from poorer backgrounds, to be led into making choices which are not good for them."
The league tables are compiled by media organisations from data released by the government. They are due to be published in January.
A spokesman for the Department for Education said: "We will reform league tables to ensure smarter accountability. Young people should be entered for the qualifications and a combination of subjects that are in their best interests - not to boost the league table position of the school."
The first study by Ofqual will compare A-level qualifications in English literature and physics with Pre-U equivalents.
Another study will look at level 2 science qualifications, including IGCSE, BTEC, OCR Nationals and GCSE.
Work will begin in the autumn and the findings will be reported in 2011, Ofqual says.