After-school clubs too expensive, poll suggests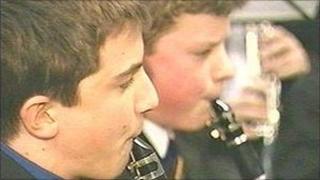 Nearly two-thirds of UK parents cannot afford after-school activities for their children, a poll suggests.
This rises to nearly three-quarters of those parents below the poverty line, the online poll of 854 parents for Save the Children indicated.
It suggested that even basic activities, such as catch-up clubs for those falling behind, can be costly.
Nearly half of the parents polled said they were having to pay more than £10 per child a week.
However, most of the parents thought their children would miss out if they did not take part in such activities.
'More confidence'
The charity said earlier research it had carried out showed many poorer parents would not be able to afford £20 a week.
The previous government encouraged schools to offer a wide range of after-school and breakfast clubs, and research suggests taking part in extra-curricular activities boosts results.
But just over a fifth of parents said they are paying more than £20 a week or £1,000 a year for activities.
Head of UK policy for the charity, Sally Copley, said: "Children who do after-school activities have more confidence, see the world in different ways, have a stronger sense of identity - and this ultimately translates into doing better in exams and getting a better job.
"We're particularly concerned poorer children are missing out as a result."
She added that research suggested just 14% of children's achievement could be attributed to lessons in school, with the rest down to their home environment and other influences.
Children of parents with professional jobs were nearly twice as likely to have music lessons than children in a household with a gross income lower than £15,000 a year, the charity says.
Sport was the most popular activity, with 48% of parents of four- to 18-year-olds saying that their child did some form of sporting activity.
'Optional extra'
One in five took drama or dance and 16% attended music classes. Brownies or Scouts were also popular choices, with 18% of children attending.
But 29% said their children did not do any activities outside of normal hours. And this rose to 39% among those from families on less than £15,000 a year.
Half of the parents questioned said none of the activities their children did were provided by schools.
And with cuts looming, the charity warned the situation could get worse.
While school funding is ring-fenced, many after-school activities are funded by local authority area-based grants which are already being targeted for cuts.
The charity said it wanted continued government investment in "the softer, more touchy-feely things which children get so much from".
Donald Hirsch, of Loughborough University's centre for research in social policy, who looked at how out-of-school activities can help the poorest children, said they should not be just an "optional extra".
He added: "What the research seems to show is that if you have a background of - from quite an early age - having done various forms of learning out of school, then that actually affects how you're able to engage in learning when you get to school.
"A child who's never done any of these things might feel that the teacher is telling them to do things and to learn things and they just don't connect with that because it seems forced."