'Degree in luxury' to be launched
By Sean Coughlan
BBC News education correspondent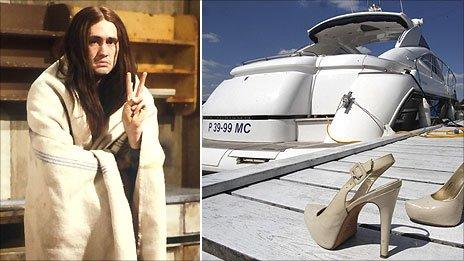 For anyone thinking that student life is about cheap beer and second-hand coats, a degree course is offering an immersion into indulgent luxury.
A masters degree is being launched this autumn in luxury retail management at the International University of Monaco.
Instead of draughty flats and sociology, students will learn about private jets, yachts and upmarket brands including Gucci.
This is the latest example of degrees linked to specific areas of retailing.
Earlier this year, Harrods announced an undergraduate degree course in retailing for its own staff, set up in conjunction with Anglia Ruskin University.
The course being launched in Monaco, which will be taught in English, could not be further from any Young Ones stereotype of students living on a diet of baked beans and radical politics.
Instead the 35 international students will be following a syllabus looking at essentials such as shoes, jewellery, watches, cars and yachts.
The course has been developed in collaboration with brands including Gucci and Ralph Lauren.
For work experience, there will be the challenge of a "seven-month immersion internship" in a luxury boutique.
But these students will be learning about, rather than enjoying, the world of luxury brands.
And the university says the course has been created in response for the demand for staff who are specialists in the luxury market.
It already runs a masters degree course in luxury goods.
"Gone are the days when it was easy to sell luxury goods based on the allure of the brand alone," says a spokeswoman for the university.
The postgraduate students will be taught the "history, main trends and competitive dynamics of the retail luxury industry".
They will learn about running shops and sales teams.
For a more theoretical approach, there will also be a study of "aesthetics, semiotics and artistic appreciation" and "codes, symbols and rituals in luxury retailing".
The course director, Annalisa Tarquini, says the "management of luxury retail is a critical growth area for international luxury brands, and the need for trained and professional managers is imperative".
The course will develop the idea that selling luxury goods should offer an "exceptional and inimitable shopping experience in which consumers develop long-lasting and emotional ties with the brand".
Not a baked bean or a Clash poster in sight.
Related Internet Links
The BBC is not responsible for the content of external sites.