Many 'fearful of helping children in need'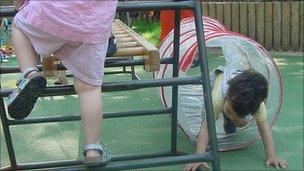 Many people fear helping a child in need in case witnesses think an attempt is being made to abduct the youngster, a UK survey suggests.
A total of 44% of men and 28% of women told researchers they would be wary of helping a child for this reason.
The research also suggests 79% of adults believe community spirit has weakened since they were children.
The survey of more than 2,000 adults and children was carried out by ICM for children's charity Play England.
Nearly half (47%) of the adults questioned said it was unsafe for children to play out without supervision, while one in three parents said they were concerned they would be judged by their neighbours if they let their children play out in this way.
However, it also found that 81% of the adults questioned believed children playing outside helped to improve community spirit, with 70% saying that it made an area more desirable to live in.
Adrian Voce, director of Play England, said: "This survey highlights that children are increasingly isolated and unable to play outside with friends.
"More than half the parents we spoke to told us they only feel confident for their children to play outside if other children are playing out too. They want to give children that freedom but are worried about the dangers and about what people will think.
"The danger is that these anxieties are perpetuating a cycle of children being denied important opportunities to enjoy their childhood and develop healthy, active lifestyles. This is storing up huge problems for the future.
"Children with regular access to playable spaces are much more likely to enjoy childhood and grow up healthier and happier."
As well as the fear that their motives for helping a child might be questioned, some adults also feared what the child's response would be.
One in three said they would hesitate to help a child in need of assistance in their neighbourhood because they would be worried that the child might be abusive to them.
ICM Research interviewed a random sample of 1034 adults in the UK aged 18+ by telephone between 16 and 17 June 2010. They also interviewed a random sample of 1031 children and young people aged seven to 14 across the UK by telephone between 16 and 22 June 2010.
Related Internet Links
The BBC is not responsible for the content of external sites.