Michael Gove defends academy schools list
By Angela Harrison
Education correspondent, BBC News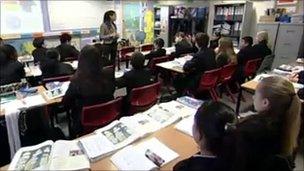 The Education Secretary Michael Gove has insisted there is no rush for schools in England to become academies, after facing criticism over the number of schools coming forward.
Critics say the news that 153 top schools have applied for academy status is proof that the changes should not have been "rushed in".
They say the figure is low but Mr Gove said he had never set a time-table.
As academies, schools will be outside local council control.
They will be free to set their own curriculum and teachers' pay and to vary the length of their days and terms.
They will be inspected by Ofsted and have to follow guidelines on admissions, but will get control of funds previously managed by local authorities.
Labour and the teaching unions had claimed that the confirmation that 153 outstanding schools had applied for academy status by late June was a "humiliating climb down" for Mr Gove, because he had originally told MPs on 2 June that 1,100 schools had "applied for" academy freedoms.
The Department for Education later made it clear that that number had referred to schools which had "expressed an interest" in the scheme. They had not formally applied - which was the next stage of the process.
Speaking on The World At One on BBC Radio Four, Mr Gove suggested the number applying was significant, because it would nearly double the number of academies created under Labour.
"Previously there were 200 academies and we are nearly doubling that number," he said.
"Some people have accused us of a precipitous rush, others say it's a damp squib. But we have always said this is permissive legislation."
He added: "The reason we pressed ahead was that I believe it's important that we give schools freedoms. But we are not giving a time table."
Mr Gove has been criticised for condensing the parliamentary process to ensure the legislation needed to expand the academies programme was passed before MPs broke for the summer.
MPs had less than a week to debate the Academies Bill.
Labour and the teaching unions say there was no need to push the legislation through.
Chris Keates, the general secretary of the NASUWT teachers' union, said Mr Gove had misrepresented the numbers of schools which were interested.
"The Department for Education had set up a website which had a button asking people to click for more information. Many of our members were later horrified to find they were on a list of schools which had 'expressed an interest'.
"More than a hundred asked for their names to be removed," she said.
Labour's schools spokesman Ed Balls said: "Despite the over one thousand schools the education secretary claimed wanted to become academies and the emergency legislation railroaded through Parliament, only a very small number of schools have applied to be Tory-style academies.
"Mr Gove does not seem to have learned any lessons from his rushed, unfair and chaotic announcement on the cancellation of over 700 new school buildings."
Head teachers' leaders say schools are right not to rush a decision.
Brian Lightman, the incoming general secretary of the Association of School and College Leaders (ASCL) said: "We have encouraged people to take care over the process and not to rush.
"We would be concerned if it was a large number [which had applied]. It might well be that more follow. This is the first tranche and obviously schools need to take decisions carefully."
The National Governors Association has also urged members not to rush.
The government says the academies programme will drive up standards.
It believes the system will be less bureaucratic and that head teachers should take more control because they know what is best for their pupils.
Critics in the Labour party and the teaching unions say the changes will fragment the state system and that disadvantaged children will suffer.
The Department for Education's list of schools rated outstanding by Ofsted which have applied to become academies was published on Thursday.
It includes about 45 primary schools, more than 20 grammar schools, a boarding school and some federations involving both primary and secondary schools.
Outstanding schools are being fast-tracked for academy status.
The government has not yet said how many schools will convert to become academies in September.
But it has been reported that about 50 have been approved to do so.
Asked on the World At One whether schools which had been approved would open as academies in September, Mr Gove said: "It's for them to decide."
England is the only part of the UK with this type of school.
Related Internet Links
The BBC is not responsible for the content of external sites.