The end of the book bag years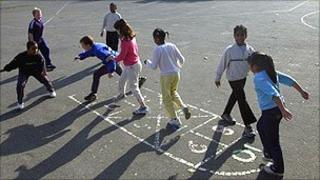 It's almost the end of the school year in England. For children reaching the end of primary school, it will be one of the biggest transitions in their young lives.
There will be parties and special events and a massive tear-fest in the playground, with children writing on each other's T-shirts and promising to keep in touch.
But never mind the children. What about the parents?
It's the end of a stage in their lives too. The primary school that seemed so unfamiliar at first will have become part of a daily routine. It's a reassuring place where the children have grown up.
And it's not just the children who are worried about losing their friends.
Strong social networks often form among the parents. In cities where people don't know their neighbours, primary schools remain a place where families get to know each other very well.
They arrive as strangers when their children are four and by the time their children leave, the primary school has become the cornerstone of parents' social lives.
Book clubs, babysitting arrangements, drinking arrangements, lift-sharing, parties, joint holidays, all radiate from the school gate.
Primary schools are the nearest things left to the village green.
This kind of cosy familiarity won't exist in secondary school, which children ominously describe as "big school".
'Cocktail of emotions'
The parents, holding back a tear in the leavers' assembly, are experiencing their own sense of loss, says psychologist Peter Sharp.
"It's a rite of passage, with its own cocktail of emotions. There's a sense in which parents feel they're losing their babies, their children are already showing some of the signs of the adolescence to come," he says.
This is deep-rooted stuff. It's a great big illuminated sign showing that time is passing.
"It's the first sign of children's greater independence. But it can also serve as a sign of thoughts about your own mortality," he says.
This is a time laden with memories and poignancy. That young dad who walked their child into nursery has gone, as well as the young child.
Children come home on their last day with pictures and old artwork from when they were infants and it feels like a lost world.
Leaving rituals
The strength of people's feelings at such times can take them unawares, says the psychologist.
He talks of the long drive home for parents who have left their children at university for the first time - and realising the magnitude of the change in their lives.
Siobhan Freegard, co-founder of the Netmums website, says that leaving primary schools is "a big deal for children, but an even bigger deal for parents".
It means "letting go" after the primary years, when children are still under their parents' wings.
And she says it can mean the break-up of those close-knit groups of friends that emerge among primary school parents. "They become your substitute family," she says.
The need to mark the occasion of leaving primary school has prompted a growth in end-of-term events.
There are stretched limousines, prom-style parties, barbecues and day trips.
A proposed end-of-term event in East Renfrewshire was stopped by the council because it was literally going over the top. A parent wanted to deliver their child to a leavers' party in a helicopter.
Head teacher Steph Neale says that at his primary school - Beatrix Potter in Wandsworth, London - there will be rituals of children writing their names on each other's T-shirts and a leavers' barbecue to say goodbye to parents.
He's expecting everyone to be in tears.
For the children who are leaving, he says there can be an underlying fear of the unknown about the secondary school ahead of them and an anxiety about leaving the safety of the primary environment.
"They're no longer going to be the big fish," he says.
It's the point at which they leave behind a kind of enforced innocence, before they meet the outside world.
For parents too, he says, it means stepping away from a place which has become part of their family life.
When pupils are scattered to so many different schools, it means the breaking up of a group of parents, as well as their children.
"Primary schools are unique places. They have strong links in the community. Even in the toughest areas, there will still be a sense of belonging around a primary school."
As such, Mr Neale says it's not just former pupils who stay in touch with each other when they leave. There are also parties held for the parents.
The summer holidays are almost here. For children on the verge of leaving primary school, their book bag years are over.