Academies Bill 'rushed through' claim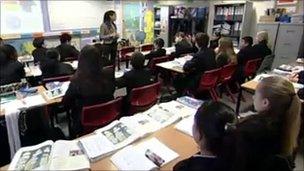 The government has been accused of rushing through legislation on its academy programme.
MPs will get their first chance to debate the changes on Monday and they could become law just over a week later.
The government wants the legislation passed so some top schools can become academies in September.
But the move has been criticised by Graham Stuart, the Tory chair of the education select committee.
Mr Stuart said the highly unusual move to "short-cut" standard procedures could cause serious problems - and demanded answers from Michael Gove, the education secretary.
"If few actually do convert, the rushed legislative process will be hard to justify," he said.
"But if, on the other hand, large numbers move then inevitably people will ask whether sufficient consideration has been given to the system-wide impact of this on things like support for children with special needs.
"The Secretary of State needs to explain why he felt that normal processes of scrutiny were being short-cut and I will be interested to hear his explanation. Members would expect a pretty overwhelming argument before that sort of thing occurred."
The academies programme is a cornerstone of the coalition' s reform agenda for schools.
It means top schools are being encouraged to opt out of local authority control and become independent, and directly funded by central government.
The move would give them greater freedom over the curriculum and teachers' pay, as well as access to funds normally controlled by local authorities.
The education secretary had said he wanted top schools to be able to opt for academy status from September.
For this to happen, the Academies Bill needs to be passed before MPs break for the summer on Tuesday 27 July.
The government has compressed the parliamentary process by taking what is known as the "committee stage" of the bill in the Commons.
That is an unusual step and one which Labour says is usually reserved for anti-terror laws and constitutional matters.
Normally, committee stage is when a panel of MPs scrutinises a bill.
The former education secretary and Labour leadership contender Ed Balls said a "deeply flawed" piece of legislation was being rushed through in an undemocratic fashion.
"I cannot remember a time when a major reform of public services was rushed through Parliament in a way that's only normally done for emergencies like anti-terrorism legislation," he said.
"As we've seen in the last few weeks, rushing big changes before they've been properly thought through is a sure fire way to get things wrong."
Christine Blower, general secretary of the National Union of Teachers, said: "These are not matters of national security or economic melt down. If this bill is enacted in such a hurried way there will be little opportunity for it to be properly scrutinised, and once passed will be impossible to change.
"Whatever people's views on academies may be, by passing the usual democratic process the legitimate, and essential, right to debate such an important issue is removed.
"The coalition government can have very little faith in its own legislation if they are having to resort to such demonstrably unreasonable tactics to pass a bill that will change the face of education in this country."
The Local Government Association, which represents councils in England, has sent a briefing note to MPs ahead of Monday's Commons debate.
In it, the LGA says: "We are disappointed that there has been limited time to debate the government's proposals for academies and has been no opportunity for formal consultation.
"This appears to have left little chance to discuss in detail some of the potential issues."
Fifteen hundred schools have expressed an interest in becoming academies.
Those wishing to convert this September had to apply formally by 30 June and officials have been deciding which have the green light to go ahead, legislation permitting.
Some schools have already been told whether or not they will be in the first tranche to convert and others should find out shortly.
The government says it expects to release a list of those approved in the next week or so, once the schools have been told.
The National Governors' Association (NGA) has been advising schools not to rush the process, because of the complexities of transferring from local authority or diocesan control.
Chief Executive Emma Knights says she does not believe many schools will become academies in September.
"My guess is that it will be small numbers from September because it is only recently that schools have been given the information they need," she said.
The NGA says it is pleased the government listened to its calls for the Academies Bill to include a clause requiring governing bodies to consult parents, teachers and the local community before opting out of local authority control.
That change has now been made - and Emma Knights says it will mean schools will be less able to rush through the process as consulting parents during the summer holidays will be difficult.
The Academies Bill has already been scrutinised by the House of Lords and the government says it has made several key amendments as a result.
As well as the change on consultation, a clause has been included enshrining the equal rights of pupils with special educational needs.
Another adds academies to the list of bodies that have to submit to requests under the Freedom of Information Act.
A spokesman for the Department for Education said: "We believe that enough time has been set aside for a thorough debate.
"The bill has already received detailed scrutiny in the House of Lords, with 22 hours of debate in committee and just under nine hours of report debate.
"In addition, a further two days of committee will take place on the floor of the House of Commons, which will give all MPs the opportunity to fully debate and scrutinise the provisions of the bill.
"There should be no surprise that ministers wanted this in place before the autumn. The Conservative Party made a clear manifesto commitment, reflected in the Coalition Agreement, that schools wanting to convert to academy status in September would have the opportunity to do so."
Related Internet Links
The BBC is not responsible for the content of external sites.