Shops into schools in five months
By Sean Coughlan
BBC News education correspondent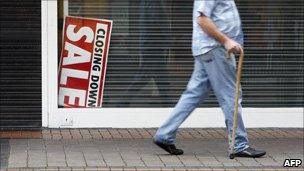 Empty shops could be converted into schools within five months, says a multinational building consultancy.
The EC Harris building group says it is already in discussion with parents' groups about providing premises for free schools.
The firm estimates it would cost about £13m to £17m to create a school using an existing shell - saving about a third on starting a new building.
The government wants to open the first free schools in September 2011.
These will be state-funded independent schools run by groups of parents or charities, outside of the control of local education authorities.
The building consultancy says that using empty retail space will be an affordable and rapid way of providing extra school space.
The London-based firm says it has been talking to groups interested in opening free schools, which are publicly funded, but independent from government control.
In the United States, charter schools, which have been an inspiration for free schools, have often been opened in converted commercial premises.
EC Harris estimates that an eighth of retail space in the UK is lying empty - and that adapting these buildings would reduce the cost of new schools by 30% to 36%, compared with starting a new building.
They also argue that the timescale would be much faster - with the conversion of redundant retail space taking 20 to 35 weeks.
Such schools would include facilities such as play areas, says a spokeswoman.
The building consultancy, which has been involved in 15 Building Schools for the Future projects, says this would be a practical response to the need to do "more for less".
"The discussion around free schools has highlighted the possibility that former shops and offices could be converted into schools; however we're able to take the debate further and provide evidence that there are significant savings and efficiencies to be had," said Simon Lucas, the firm's head of education.
As well as cutting down on building costs, there could be other ways of opening buildings more quickly, suggests a spokeswoman, such as giving pupils a grant to buy their own laptops, rather than running centralised computer services.
Much of the previously-announced scheme to rebuild schools, Building Schools for the Future, has been cancelled.
But there are still demands for new school premises.
A rapidly rising number of young children means that there is a shortage of primary school places - with some schools having to use temporary classrooms.
And the coalition government wants to encourage parents' groups and other providers to set up free schools.
These are likely to be small schools, needing accommodation in cities, and converting existing buildings might be seen as a more affordable approach.
Related Internet Links
The BBC is not responsible for the content of external sites.