Vince Cable set to propose graduate tax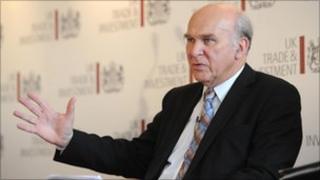 A graduate tax is to be proposed by the Business Secretary Vince Cable, in a keynote speech on the future funding of higher education.
This would mean students in England would repay the costs of going to university through taxation once they began working.
A review of tuition fees and student finance is due to report in the autumn.
Mr Cable, who has pledged to oppose raising fees, will suggest a graduate tax as an alternative system.
This would mean students' fees being paid by the government to universities - and graduates would then pay a higher rate of taxation.
At present, the government lends students money to cover the cost of fees, with this loan paid back when students enter work, until the loan is paid off.
Under a graduate tax, the amount paid would depend upon earnings - compared with the current system in which a fixed amount is paid back.
Such a change could draw the political sting from the tuition fee debate - with Liberal Democrat MPs having personally signed pledges to oppose an increase in fees.
Private universities
Mr Cable, whose department is responsible for universities, is also set to suggest ways of cutting the costs of higher education to both taxpayers and students - such as promoting two-year degrees and more students living at home.
Another proposal will be for more university courses to be franchised out - with universities accrediting courses which are taught by other institutions.
There will also be calls for a wider role for private providers in higher education - and there have been suggestions that private providers will want to expand into subjects such as teacher training and healthcare.
The speech from Mr Cable on Thursday will address the deepening pressures on the university system.
An unprecedented number of people are applying to university - and figures due on Friday will show that record numbers of well-qualified youngsters are going to miss out on places this year.
But spending limits from the government mean that universities are restricted in how much they can expand to meet the demand.
The previous government's promise of an extra 20,000 places this year has been cut to 10,000 places.
Fewer students
Mr Cable is also expected to retreat from the previous government's ambition of getting 50% of young people into university.
But this would be against a trend in rising numbers. There are already 51% of young women going to university - and in Mr Cable's Twickenham constituency, 52% of the working-age population have a degree.
There are now parts of the country in which almost two in three young people go to university.
Universities have also been warning of a deepening funding problem - and some university groups have called for an increase in tuition fees above the current level of £3,225.
There is an expectation that the subsidised repayment of loans for students' living costs will also be increased to a more commercial level of interest.
University leaders have warned that they need extra funds to remain competitive in a global market - and there had been speculation that the limit for fees would be raised to £7,000 per year.
Malcolm Grant, provost of University College London, has suggested that protecting funding for research is a greater priority than recruiting more students.
However any increase in fees would add to the pressure on the taxpayer in the short term - with the government having to cover the up-front cost of any increase in fees.
As such, Mr Cable's speech will look at ways to reduce the cost, in the form of shorter, flexible courses and more studying from home.