Fibromyalgia and pain: 'How cooking gave me my family back'
By Bryony Hopkins
BBC Ouch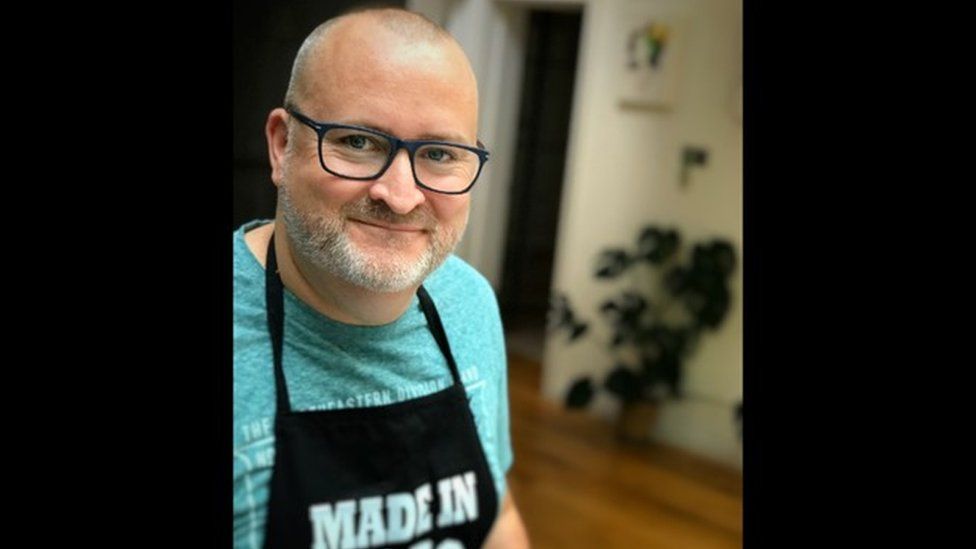 When you flick through a recipe book, there are often brightly coloured photos of food, with texture and zing bursting off the pages. The pictures are designed to make you think, "I want to eat that", but what if those photos do the exact opposite? That was the challenge Ian Taverner faced when he was diagnosed with a chronic illness.
When Ian turned to his cookbooks while managing fibromyalgia, he found the timings unachievable and the expectation of the photos overwhelming.
Living with chronic pain and fatigue meant even getting into the kitchen was a challenge, let alone perfecting culinary techniques, and he found there were almost no resources which helped with this.
"The pain was so bad I couldn't hold a knife, I couldn't stand up to cook, I couldn't carry anything," he says. "I almost gave up before I started."
Ian describes his pain as incessant - a combination of an ache and a throb.
"I thought to myself, how can I turn this 'I can't cook' into 'I want to cook' and 'I can cook safely'?"
For Ian, finding a way to take that first step into the kitchen was essential - not only for him, but for his wife and two daughters as well.
'I very nearly lost my family'
Ian, 50, grew up on the Isle of Man. He spent a lot of time outside playing sport and inside the home he watched his mum cook, which is where his love of food came from.
"My mum was a great cook. She taught me and it was brilliant," he says.
In his early 20s he moved to the UK, met his wife and continued to play sport.
But in his mid-30s, things changed.
He started to take longer to recover from coughs and colds, and experienced extreme panic and anxiety attacks. Physical symptoms appeared too - pain, brain fog, fatigue - and his life "started to unravel".
"I used to love cooking but when I became unwell, I lost the will to exercise, I lost the will to cook, I lost my love of cooking and I very nearly lost my family too."
When Ian hit 40 he was diagnosed with coeliac disease, a condition which causes the immune system to attack the body's tissue if gluten is eaten.
He thought this would be the beginning of his recovery, but his symptoms worsened.
Eventually, he saw a pain expert, who specialises in diagnosing and treating people with chronic pain. For Ian, it also led to a diagnosis.
"He told me I had fibromyalgia and I said, 'I don't know what that is?'."
Fibromyalgia is a chronic illness which causes pain all over the body as well as fatigue and brain fog.
It is thought to affect more than one million people in the UK and is seven times more likely to affect women than men.
The exact cause is unknown, but in many cases it appears to be triggered by a physically or emotionally stressful event. There is currently no cure.
Ian was prescribed steroid injections, but "nothing was getting better, in fact it was getting worse," he says.
And a year later, the situation got on top of him.
"I broke, basically. From then on, the mental health and physical health intertwined - kept feeding each other - and I spiralled downwards."
Ian gave up work. He couldn't walk or talk. Even facing light was excruciating.
He would spend the next four years in bed. "My whole world collapsed," he says.
At home his wife and two daughters continued family life as best they could. Ian missed Christmas, birthdays, swimming lessons and everything in between.
"We then became two families," he says. His wife and daughters would do things together, while on the other side "my wife was mum, dad, carer - everything".
Ian spent years "existing" until the NHS referred him to the pain management programme at the Bath Centre for Pain Services - the last form of treatment available to him.
Dr Hannah Connell, who runs the service, says the pain from fibromyalgia is "very real" and is treated as a "physical, not a psychological condition".
She says: "One of the things we say at the assessment day is we're not here to make your pain go away - what we are here to do is to help you lead a better quality of life with the pain."
The programme focuses on a psychological model called acceptance and commitment therapy, which looks at finding ways to move forward with things that can't be shifted.
It utilises mindfulness, body conditioning and exercise as well as diving into the feelings related to the pain and how they impact people around you.
While Ian underwent the therapy, he kept focusing on images of his family as motivation.
One was of a table set for four. There sat his wife and two daughters, but the fourth place was empty.
"I worked really well with pictures in my head," he says. "There was one called Four Towels. On the beach, there are four towels. Three are with my wife and children and one is empty, which is where I should have been."
Ian used the images to remind himself what he was working for - "I just wanted to be part of my family again."
As he started to move forwards with his pain, Ian thought about the things he used to love and how they might help - cooking was the first thing that came to mind.
Initially, he took to the kitchen alone, but found he needed the support of his wife and girls to make it happen.
"To start with, I thought, 'I'm not really cooking, because they're doing it', but actually the point was we were doing something together.
"We tried some really simple things like boiling an egg and I needed help with the hot water pan because I would drop it. I learnt it was okay to make a mess - the key point was not to give up."
Slowly, Ian developed methods to cook and realised others could benefit from what he had learned and came up with the idea for a cook book he called Cookfulness.
The recipe book focuses on cooking with a disability or chronic condition. It doesn't contain any photos of the finished dishes and the timings are adapted to allow a realistic cooking pace.
"I don't want people to feel there is a 'success' criteria," he says. "Whatever you come up with - it's right."
"I'm not doing a five-course dinner for four every day, but now can adapt my cooking to fit my physical and mental state.
"Cooking has given my family back in a big way."
Keep pre-chopped vegetables in the freezer
Batch cook for days when cooking is not possible
Prepare your utensils in advance
Use all the space in your kitchen
Don't be afraid to ask for help
Related Internet Links
The BBC is not responsible for the content of external sites.