Winter Paralympics: 'Don't go easy on me because I'm a woman'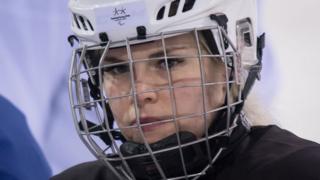 Para ice hockey is a fast-paced, action-fuelled game which packs out the stadium at the Winter Paralympics. But imagine being the only woman on the ice.
Lena Schroeder was a self-conscious 15-year-old when she first discovered para ice hockey. She had just signed up to a newly formed team when, coincidentally, a friend sent her a text to tell her about it.
"I had no experience with hockey whatsoever," she says. "Neither standing up hockey nor sitting hockey, so I just decided I would try it. I instantly loved it."
Schroeder, now 25, was born with spina bifida, a condition which for her means she can walk and stand but gets tired quickly.
"I walked a lot before, but my legs have got weaker and weaker so I use the wheelchair now," she says.
Because she walked a lot at 15, she says she didn't really learn to accept the wheelchair fully. Getting into para sports at that time was important, she says.
Para ice hockey is for those with a physical impairment in the lower part of the body. Players sit on sleds and use two sticks to power themselves across the ice, hit the puck and score goals.
At the Winter Paralympics, it is loud and brash and hugely exciting for the spectators. Sirens go off when goals are scored, music booms across the arena every time a penalty is awarded and phrases like "awesome save" flash up on the jumbotron - a giant cubic screen in the centre of the arena.
Schroeder trained hard with a team in Oslo and was called up to Team Norway in 2014. She was, and still is, the only woman on the squad, but she doesn't let that faze her.
"I'm so used to it, so I don't really think much about it. It's always fun playing with the guys and for me it's so natural. They're a bunch of great guys and I like to be in there with them."
Before November 2016, the sport was known under the more aggressive-sounding name sledge hockey before it was rebranded. Typically you'll see the players speed across the ice, crash into each other when trying to wrestle back control of the puck, topple over, or get pushed into the side barrier.
"My coach said that some opponents had been asking him if they should go easy on me because I'm a female. My coach was like, 'Well, that's your choice, but she will hit you back'."
Schroeder made it known from the beginning that no-one should treat her gently and, showing her commitment to the sport, says she has worked hard to build up her speed and strength in order to compete amongst the men.
"The coaches have been clear they wouldn't bring me if I wasn't good enough - I had to prove that I deserved it."
Off the ice there's banter among all of Team Norway, and Schroeder even shares the locker room.
"There's a lot of joking between the guys and me. It's nothing special with me being a girl and they give me privacy when I ask for it but other than that nothing's different.
"Sometimes they might be joking about ladies, but if they're in doubt that what they said has offended someone, they say, 'Is this OK?'.
"There's never been anything that's crossed a line."
The main battle of the sexes is over who gets to shower first.
"I shower alone, so they have some logistics with me showering either first or last. We try to mix it up because I hate waiting for them and they hate waiting for me."
Schroeder enjoys playing with the men but would like to see more women in the sport.
In 1994 fellow Norwegian, Brit Mjaasund Oejen, competed at the Lillehammer Games, but close to a quarter of a century on, Schroeder remains the only woman among the 135 players registered to play para ice hockey in Pyeongchang.
The 2018 Winter Paralympics saw a 44% increase in female athletes compared with Sochi in 2014, but ice hockey's expansion is slow and still remains a mixed sex sport.
The US and Canada have national female teams but Europe has had to pool its talent to create a single women's squad, which Schroeder is part of.
"The goal is for every country to have their own national team and then hopefully [women's para ice hockey] becomes a Paralympic sport," she says.
"As long as there's mixed teams then too few girls will be able to play at this level because most teams don't give them that opportunity."
Schroeder isn't a full-time athlete. She also studies medicine and has to balance training and competitions with university in Oslo.
But aged 25, she has time on her side.
"Right now I think it's really fun to be able to focus on hockey, but there's not really much money in para sports and I can't play hockey forever. I need a job in the future and I love medicine.
"I'm still so young that I have the privilege of just having the chance to put the studies on hold for just a while and then focus on hockey, it's no problem."