Nyle DiMarco's tweets spur deaf people to share cinema frustrations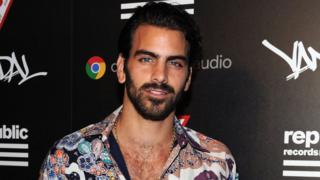 Deaf actor and model Nyle DiMarco has taken to social media to share his dissatisfaction with the captioning of a screening of Black Panther on Sunday.
In a series of tweets Mr DiMarco explained how he walked out of the showing after feeling "so disabled" when the "awful" captioning device on offer "kept skipping lines" and "missing scenes".
Hundreds of deaf people responded to his posts with their own stories of cinema annoyances.
You may also like:
Mr DiMarco, who won America's Next Top Model and Dancing With the Stars, criticised the closed captioning system which displays subtitles to individual theatre-goers.
In the UK open captioning, which displays subtitles on the main screen, is much more prevalent.
Mr DiMarco added he felt "disappointed" by his experience and suggested cinemas were "basically for able-bodied people".
Deaf actress Shoshannah Stern was among the hundreds who responded to share their irritation at the issues faced by deaf cinema-goers.
Ms Stern explained captions for the hearing-impaired are sometimes surreally at odds with the action on screen.
Nyle DiMarco regularly uses his social media following to draw attention to deaf issues, including teaching American Sign Language to his 1.5m Instagram followers and 63,000 YouTube subscribers.
Many Twitter users responded to Mr DiMarco's tweet to explain issues of accessibility and captioning have stopped them attending the cinema all together.
One person said their faulty closed-captioning devices made them leave the cinema, while another replied they had given up on cinemas and would wait for a film's DVD release,
Others called for more cinemas in the US to use open captioning.
While some pointed out that in the UK open captioning is used more often, the availability of showings was questioned by some.
The cinema chain involved responded to Mr DiMarco's tweet stating they take issues such as this very seriously and asked the model to contact them.
By George Pierpoint, UGC and Social News