Are disabled people's sex lives being ignored?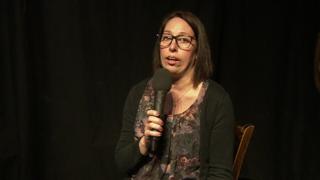 Sex and disability was once regarded as a taboo subject, but is now being spoken of more often. Comedian Romina Puma, who has muscular dystrophy, says disabled people's right to sex should not be ignored.
When I was diagnosed with muscular dystrophy 10 years ago, at the age of 29, my life was pretty normal. Like many women, I enjoyed going out to meet new guys and would often have a boyfriend.
But as my condition has become progressively worse, and I have begun using a wheelchair, people no longer see me in the same light.
It doesn't mean having a sex life isn't important, or that my private parts don't work properly. Most men I meet, however, can't see past the chair, and exchanges often don't progress beyond sympathetic looks.
Sex and disability may sound like a pornographic remake of Sense and Sensibility, but to many it is an issue that matters.
I went to meet Shital, a counsellor specialising in working with disability and chronic illness. She was born with juvenile hyaline fibromatosis - a rare genetic condition that causes tumours to grow on the body as a result of trauma and often leads to severe physical impairment.
It meant that as she was growing up, and her friends were having sex, she felt "ugly and undesirable".
"I had the same thoughts and needs as my friends, but our experiences were not the same - I always found myself as the friend, not the lover," she explains.
"I knew how sex worked, I knew I wanted it one day, but didn't really feel I ever would. It was a very lonely life and I became very isolated. The worse I got, the more I started to lose touch with my social group in my 20s."
Shital began looking for a relationship online, but had negative experiences. "The first question some men asked was, 'Can you have sex?' My response would be, 'Well you'll never get to find out!'"
Worries about body image also affected her ability to meet people. "All my life I've had people pointing, staring, calling me names like elephant woman. That destroyed my confidence - and if you have no confidence, how are you ever going to have a sexual relationship?"
But with the help of the Outsiders Club - a social and dating club for people with disabilities - she has since met Jamie, who is also disabled, and the pair have been in a relationship for nine years.
"As we got together, and developed our relationship, we had sexual confidence together," she explains.
"There's no way I'm ever going to do all the positions in the Kama Sutra," she jokes, "but, hey, show me a person that can. Its about intimacy, not gymnastics."
Damian, 49, was diagnosed with multiple sclerosis aged 23. He says at the time it had become a "race" to be as sexually active as possible before he needed a wheelchair.
I ask him if this had made him something of a playboy. "Yes," he replies, with a cheeky smile across his face.
Damian's mobility is now severely limited, and he has decided to pay for sex workers to visit him around once a month, saying they have become "essential to meeting my needs".
It is a feeling I can sympathise with, even if I have not gone down this avenue myself - sometimes you really need human contact.
---
Find out more
The Victoria Derbyshire programme is broadcast on weekdays between 09:15 and 11:00 on BBC Two and the BBC News channel.
---
Encounters such as Damian's can be arranged through the TLC Trust, an organisation that helps disabled people to legally hire sex workers - such as sexual surrogates and escorts.
Sue Newsome, a sex therapist, sees her role as "helping physically disabled people acknowledge and explore their sexual pleasure".
"Healthcare professionals don't talk about sex, they often act as if people with disability don't need it," she adds.
But she does believe the situation is improving. "A few years ago, sex was not included as part of the rehabilitation process after an accident, but that is changing thankfully," she says, although other experts disagree.
Any progression there has been, however, came too soon for Andy. A former professional motocross racer, he says his relationship changed when he was injured and broke his back, leaving him unable to feel or move anything from the chest down.
Following the accident he proposed to the woman who would become his wife, but the marriage broke down because he would avoid sex.
"The sex was hard to start off with because we were experimenting. Basically [healthcare professionals] will give you some Viagra and just say, 'Right, go away and try that.'
"We never had any counselling on how it was going to work, to the point that... we didn't even consummate the marriage."
Andy says over time he has discovered more about his body and how he can enjoy sexual pleasure without penetrative sex. He has been with girlfriend Helen for over a year now, and says his disability has changed the way he looks at sex - enabling him to focus more on intimacy.
"To use a cliche, you're actually making love rather than having sex," he explains.
What came across from Andy, as well as Shital and Damian, was that - disabled or not - everyone has the right to enjoy sex.
Yet only 5% of non-disabled people have ever been asked out or been on a date with a disabled person, according to the charity Scope.
Sex can be a real challenge for some - but there is always a way to overcome those obstacles. And perhaps the main place to start is by talking about the issue openly.
Follow @BBCOuch on Twitter and on Facebook, and listen to our monthly talk show