Being the twin who wasn't born disabled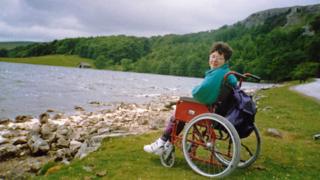 It is 20 years since Ed Green's disabled twin sister died but he still considers accessibility with everything he does.
My twin sister and I were born prematurely. I was the weaker out of the two of us - Jenny was both healthier and happier. It's ironic then that I was the one who came out of it unscathed and Jenny went on to live with cerebral palsy.
The risk of complications in a multiple pregnancy is greater than carrying just one child, and it's not uncommon for one twin to be disabled and the other not. Paralympic swimmer Sascha Kindred has a non-disabled twin, and actor Ashton Kutcher's twin brother is disabled. So we're in good company.
Twins are often thought to have a closeness that isn't there with other sibling relationships. The fact we were on different sides of the disability divide, for want of a better phrase, didn't alter this.
Jenny and I were born 10 weeks early and 10 minutes apart, weighing in at 3lb 5oz and 2lb 12oz respectively. We spent our first three months in hospital, or rather, for much of that time, separate hospitals. When we eventually went home it was no doubt a great relief to mum and dad, who were still just keeping their heads above water. After all, mum only found out she was expecting not one, but two babies, eight hours before we were born.
This happened 46 years ago but then, as now, twins looked to each other as they reach those childhood milestones, with grown-ups and peers comparing and contrasting their development too.
I don't remember when I first really understood what Jenny's differences meant. But I do remember as a toddler, urging Mum repeatedly: "Why can't Jenny walk?" The answer always came back the same: "We don't know."
An early obstacle was education. Jenny had blended in seamlessly at the local village playgroup and it hadn't crossed mum and dad's minds that disability would affect the transition to infant school. They had heard that the school's policy was to separate siblings into different classes but, happily, twins were always kept together. And the fact that the school was a modern, single-story building with no steps, made it all sound positive.
When Mum and Dad went to see the head teacher however, any ideas of Jenny joining me in mainstream education were curtly dismissed: "I'm afraid I cannot ask my staff to cope with Jennifer," they were told. I started school in September 1973 and left a frustrated sister at home.
It seems extraordinary our parents weren't given any guidance at this stage, they had to find things out for themselves.
A place was found for Jenny at a local special school. I still remember the sign "Danger: Physically Handicapped Children" at the gates. I had never realised my twin was dangerous.
Listen to Ed tell his story in the latest Ouch disability podcast
Putting aside our identical knitted jumpers, people saw us as different - strangers would stop and give Jenny sweets, for instance. Then there were those special school parties with celebrity performers - the likes of Roy Kinnear and Tony Blackburn with his radio dog (a "woof woof" from Arnold).
The jump to secondary school landed me with a new, unwelcome daily routine in the form of homework. Jenny, eager to follow her brother, begged her teachers to give her homework also. This led to an angry phone call from her headmaster, accusing mum of "pushing Jenny too far".
As we reached 16, thoughts turned to "What next?" for Jenny and my worry about her future went into overdrive.
I'd heard many stories about disabled people living with their aging parents until middle age and then getting despatched to an institution, their only respite throughout adult life being visits to day centres. When I left home for university, Jenny was halfway through taking various assessments and trying out a training flat.
She really came into her own through an independent living organisation, which she was later to chair. In retrospect, I think it gave Jenny a rich experience, but at the time I was preoccupied with what I felt was a laissez-faire approach from them which left their disabled members open to exploitation - in fact Jenny had all her savings cleared out by a fraudulent volunteer at one stage.
Jenny's poor grip on her finances gave me sleepless nights and I ended up insisting on seeing her bank statements. All those ordinary brother/sister quibbles pale in comparison to the fights in our early 20s about how much she needed help or should be left to get on with things.
Jenny died a couple of weeks before what would have been our 28th birthday. In a terrible accident, her clothing caught fire as she was cooking her evening meal. All these years on, I have bitter-sweet memories of making her collapse into giggles, her overactive reflexes making her spill her drink all over the place as she both laughed and feigned annoyance at the same time.
Jenny and her different needs still touch my daily life in subtle little ways. When my foreign partner marvels at our Edwardian tube stations, I find myself automatically working out where on the line there is platform-to-street access. Swiping my smartphone's screen, I think first of Jenny and then automatically trace the complicated thumb movement that would be impossible for many people with cerebral palsy. And when colleagues at work take the lift down four floors, I take the stairs - just because I can, and because it feels frivolous not to.
There are things only twins can share, such as our quirky sense of humour and memories of childhood. But it's strange that for us her cerebral palsy, and my lack of it, was something we shared too.
For more Disability News, follow BBC Ouch on Twitter and Facebook, and subscribe to the weekly podcast.