Guilt: Will Gompertz reviews BBC Scotland's crime drama ★★★★★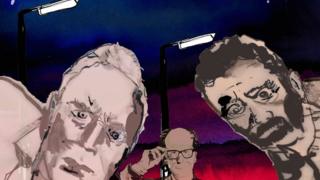 There have been some really nasty mouths on TV and cinema screens over the years. Hannibal Lecter's springs to mind. Although, to be fair, the gimp mask didn't do him any favours. Batman's bete noire Bane (as played by Tom Hardy) suffered from the same indignity, poor chap. He probably had a lovely smile behind all that leather and metal. That's what his mother said, at least.
Albert Steptoe (remember him?) had a malevolent gurn so loaded it actually made you feel dirty. Not quite as filthy and rotten as Hessian Horseman's ghastly black gnashers in Sleepy Hollow, which made you retch (headlessness improved him no end).
For a more life-like mean mouth, pinched and bloodless and filled with nothing but venom, I always thought you need look no further than Begbie's cruel kisser in Danny Boyle's Trainspotting.
That was before watching Guilt on BBC Two, an Edinburgh-based four-part drama starring Mark Bonnar as Max McCall, a solicitor perpetually on the verge of losing it.
Big time.
Read full article Guilt: Will Gompertz reviews BBC Scotland's crime drama ★★★★★