What price for democracy?
5 November 2016

From the section

England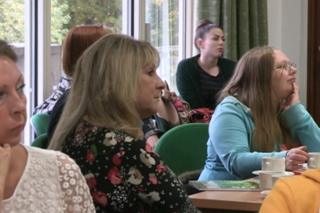 The clock is moving on towards lunch time and Leicestershire County Councillor Rosita Page is anxious to get away. She's been here since 10 o'clock at a Learning Disability Forum.
Ms Page is part of the ruling Tory group and is observing the meeting as part of her responsibility for adult social care, which takes more than half the authority's budget - £127 million pounds.
She has to be 35 miles away in Market Harborough by quarter to two to chair a meeting on community safety. Because she's also a district councillor. More than half the county councillors in the East Midlands do the same thing. They're known as double or twin hatters.
Some say if we're electing the same councillors to both positions what's the point of having two authorities?
The Conservative MP for Broxtowe, Anna Soubry, is one of those who believes it would be cost effective and better for democracy if we got rid of district and borough councils.