Why is Twitter's Jack Dorsey wanted in India?
13 February 2019

From the section

India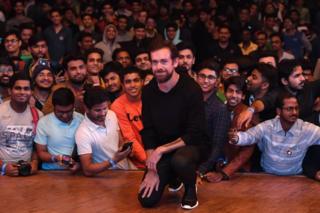 Jack Dorsey is no stranger to controversies.
On his last trip to India in November, the chief executive of Twitter posed for what he thought was an innocuous picture and ended up enraging Hindu nationalists. The picture had a placard reading "Smash Brahminical patriarchy", alluding to oppression by upper-caste Hindus.
The backlash on his own social media network was fierce: Mr Dorsey was promptly accused of "hate-mongering". (The following month, in an unrelated controversy, he was criticised for promoting Myanmar as a tourist destination in a series of tweets despite widespread allegations of human rights abuses in the country.)
Now Mr Dorsey has been summoned by MPs in India, one of the fastest growing markets for his network, which claims 126 million daily users worldwide. By one estimate, more than a sixth of its users come from here. Prime Minister Narendra Modi is one of the most followed leaders on the network. "It's quite an exciting time for us in India," says Maya Hari, the network's vice president and managing director, Asia-Pacific.
A 31-member panel of MPs wants Mr Dorsey to appear before it on 25 February to get his views on "safeguarding citizens' rights on social/online news media platforms". The panel is led by Anurag Thakur, a MP belonging to Mr Modi's governing BJP. Twitter appears to have been singled out for this unusual meeting.
Read full article Why is Twitter's Jack Dorsey wanted in India?