The three reasons markets have fallen
15 November 2018

From the section

Business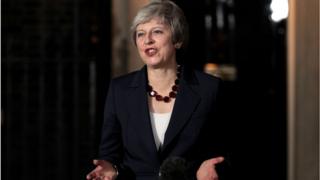 The markets took a fright today as Theresa May's cabinet - and with it, her Brexit deal - appeared to be falling apart.
Markets are a bit like bookmakers, they reflect the odds of certain outcomes, and three things have just become more likely than they were yesterday. Leaving the EU without a deal, a change of Prime Minister and a general election. All three scare investors.
Here's why:
Leaving the EU without a deal is widely considered bad for the UK economy - at least in the short to medium term - and that is bad for the pound. That hits people's incomes by pushing the price of imported goods and things priced in dollars (like petrol) higher.
Cash-strapped consumers may find it harder to pay their loans, credit cards and mortgages, hence the big fall we have seen this morning in the shares of banks and housebuilders. Persimmon is down over 10% and Lloyds by more than 6%.