'Final year like no other' PM tells school leavers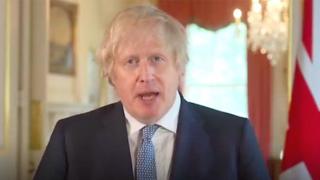 "This is a final year like no other," said Boris Johnson, in a video message to those who left school during the lockdown.
In a rallying cry to those stepping out of school, without any of the usual leavers' rites of passage, the prime minister told them to "rugby tackle that opportunity to the floor".
And whether it was reflecting on their lives or his own, he warned school leavers: "There are always going to be people who want to pour a bucket of cold water on your ideas."
Teenagers had missed out on much fun this summer, but their "sacrifice" had saved lives, he said, in a recorded YouTube and Facebook video, framed by Downing Street chandeliers and flags.
And what a strange last year it's been.
Read full article 'Final year like no other' PM tells school leavers