Tuition fees heading down in 2019?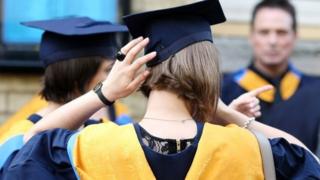 If the education secretary and universities minister are looking across the snowy pages of next year's diary, there will be one date they'll already be thinking about.
The recommendations from the review of tuition fees and university funding in England are going to land on their desks, most probably in January or February.
The government won't respond immediately - it could be months before anything appears - but at some point, the Department for Education, 10 Downing Street and the Treasury will have to hammer out a decision.
Should tuition fees in England be reduced from the current £9,250? Should the cost of studying be linked to future earnings? What about training for those who don't go into higher education?
The start of this review already feels like another age. It was announced in 2017 by a prime minister chastened by the loss of her parliamentary majority and challenged by Labour's promise to the young to scrap tuition fees.
Fees facing a cut