University 'forced out' from Budapest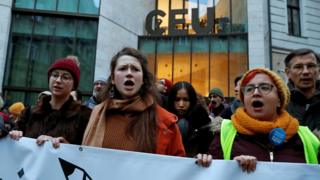 A university in Hungary now formally accepts that it "has been forced out" from its Budapest base - after a weekend deadline to reach a deal with the government passed without any last-minute agreement.
"We can no longer operate as a free institution in the city and country we call home," said the president of the Central European University (CEU), Michael Ignatieff.
He described it as a "tragic and serious violation of academic freedom in the heart of Europe".
The Hungarian government has rejected claims that it is an issue of academic freedom - arguing that the university has failed to comply with higher education regulations.
The university, founded by liberal philanthropist George Soros to foster democracy in post-Communist Central Europe, is now moving many of its courses to Vienna.