Does Ruth Davidson going make independence more likely?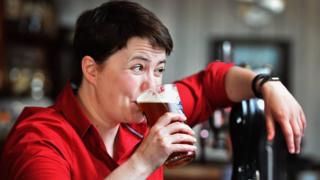 Ruth Davidson's unique selling point has always been that she doesn't look or sound like a Tory so she could persuade people who would never previously have considered voting Conservative to at least give them a hearing.
When the Tories fight election campaigns in Scotland they don't do it under the name of the "Scottish Conservative Party". They do it as "Ruth Davidson's Party". It's her picture that looms large on campaign leaflets. Any mention of being Conservatives is consigned to the small type.
That's been Ruth Davidson's great success. Detoxifying the Tory brand in Scotland. She says she is proud that Conservatives can now knock on doors in Scotland without always having to apologise for being Tories. The question now is what happens to that brand without her unique personal appeal.
Under her leadership the party won 13 seats in the last general election. Up from having just one MP. That success was crucial to keeping Theresa May in Downing Street and the Tories in power.
Will they be able to hold all those seats under a different, less vibrant leader?
Read full article Does Ruth Davidson going make independence more likely?