Is Facebook a friend to local journalism?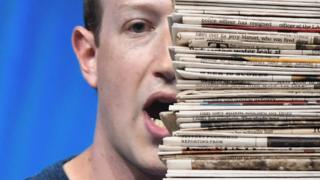 Facebook, often seen as one of the factors behind the decline of local newspapers, has unveiled a scheme to train reporters to work in local communities across the UK.
The social media giant is giving £4.5m ($5.7m) to local newspaper groups, which will hire around 80 people to spend two years training to be community reporters.
The scheme, to be administered by the National Council for the Training of Journalists, is designed, in Facebook's words, "to encourage more reporting from towns which have lost their local newspaper and beat reporters".
Now cynics might suggest that part of the reason those reporters have gone is that Facebook has run off with a large slice of the local advertising revenues, which used to support those jobs.
After all, the company reported UK revenues of £1.27bn last year, while Britain's largest local newspaper group Johnston Press earned only £100m from advertising - and has had to be rescued from collapse as its debts threatened to sink it.