Tech Tent: Tech and the US election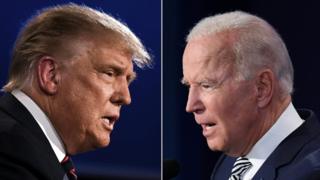 Will a Trump administration or one led by Joe Biden be more likely to break up Google? Will disinformation, spread on Facebook, change the course of the election? And could TikTok be the surprise weapon in the armoury of political campaigners?
In a special edition of Tech Tent, we explore this and other questions about the US election and what's at stake for the technology industry.
---
On Tuesday, just two weeks before election day, the Trump administration stunned Silicon Valley with its anti-trust lawsuit against Google, the most significant such move since the Department of Justice took on Microsoft in the 1990s.
Last month, it was Democrats on the House Judiciary Committee who issued a report calling for this kind of action against big tech firms - but it was Attorney General William Barr, along with Republican law officers from 11 states, who launched a broadside against Google's alleged anti-competitive practices.
One of the leading experts on competition economics, Prof Fiona Scott Morton of Yale University, tells Tech Tent the mood has shifted against the tech firms on both sides of the political divide.