Tech Tent: Hot gadgets, self-driving cars and a weird party at CES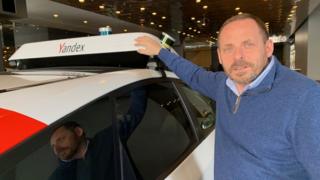 It is the show that tells you where technology is heading - and this week on Tech Tent we bring you all the hottest gadgets and the top trends from CES in Las Vegas.
We find out about the interactive plank of wood that could be an interface for your smart home and the Japanese companion robot designed to make you fall in love with it.
We discuss 5G, AI and voice-activated devices - and try to cut through the hype and work out what products unveiled here will have a lasting impact.
We also go for a ride in a self-driving car with Arkady Volozh, founder of Russia's tech giant Yandex. His company, often seen as Russia's equivalent of Google, started its autonomous vehicle research programme just two years ago.
But it is already operating a robot taxi service in Moscow and another Russian city, just as Google's Waymo division has begun a commercial ride sharing service in Phoenix, Arizona.
Read full article Tech Tent: Hot gadgets, self-driving cars and a weird party at CES