Tech Tent: China and US spar over games, apps and AI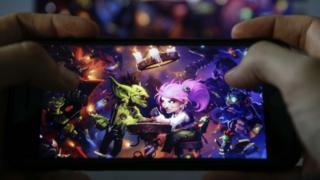 How much are Western companies are prepared to abandon their principles in order to appease the Chinese government?
In the week Apple dropped a controversial app and a games firm suspended an e-sports player for making controversial remarks about Hong Kong, Tech Tent looks at the ethical dilemmas for anyone doing business in China.
The app that caused Apple such a headache was called HKmap.Live, which offered real-time updates of where Hong Kong police units were stationed. Apple steered an unsteady course, first refusing to allow it on the App Store, then giving the go-ahead, and finally removing it.
Jane Li, from the Hong Kong bureau of the Quartz News site, tells Tech Tent that an editorial in the state newspaper the People's Daily describing the app as "poisonous" was probably decisive.
She suspects that the commercial implications of defying the Chinese authorities were on the iPhone-maker's mind: "Probably they would see their products or marketing activities suspended in China."
Read full article Tech Tent: China and US spar over games, apps and AI