Tech Tent: Has crypto-currency peaked?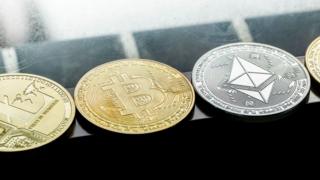 If you believe crypto-currencies are the future this has not been a good week. The value of Ethereum, Bitcoin's main rival and "the future of crypto" not so long ago, has lurched ever lower and is now 80% below its peak.
Meanwhile, US regulators have acted against companies involved in crypto-currencies and initial coin offerings (ICOs) - schemes to create new coins.
But hope springs eternal, and in recent days both a London art gallery and a Scottish hotel have contacted me about plans to allow their customers to pay with crypto-currencies.
So on this week's Tech Tent we debate this question: has crypto-currency peaked or do its best days lie ahead?
We invited David Gerard, author of Attack of the 50 Foot Blockchain, a very sceptical take on the crypto landscape, to debate with Christopher Shake, the director of that London gallery, The House of Fine Art.