Spending plan: What it means for health and care
4 September 2019

From the section

Health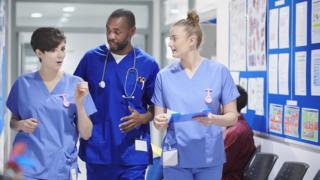 In terms of health and care, there were two eye-catching numbers in the chancellor's spending announcement - £6.2bn extra for the NHS and £1.5bn for social care in England - but neither is quite what it seems.
The £6.2bn refers to the extra cash the front line of the NHS will receive next year as part of the five-year settlement announced a year ago by then Prime Minister Theresa May. And it takes the total available to NHS England, to pay for services from hospital care to GP practices and ambulance crews, to nearly £130bn.
The increase amounts to a 3.4% above-inflation rise - and while that may seem generous when compared with other areas of public spending, it is still less of a rise than the NHS has traditionally be given throughout its history.
What is new, however, is how much extra the rest of health is being given. This is money that goes on a range of other things, such as buildings maintenance and training for staff. And the money available for those areas is rising by £400m to £9bn.
The extra money is welcome but still leaves the NHS playing catch up, with waiting lists growing and a huge backlog in buildings maintenance, according to the Institute for Public Policy Research.
Read full article Spending plan: What it means for health and care