Joe Biden: A frontrunner stumbles in the age of #MeToo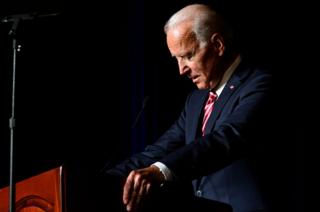 The most damaging political scandals are usually those that draw attention to an existing vulnerability in a candidate's public persona.
The Hillary Clinton email controversy reinforced a reputation for evasion and also the sense the Clintons did not feel bound by rules that applied to lesser mortals.
When during the 2012 campaign a tape emerged of Mitt Romney castigating the 47% "dependent on government", it seemed to confirm this former venture capitalist was a heartless "one percenter" lacking in empathy for the victims of the Great Recession.
The allegations against Joe Biden, that he touched two women inappropriately, magnify and multiply a pre-existent image condition: that he's an old white man, who seems to defy the zeitgeist; a dinosaur who does not fully understand the meteor effect of the #MeToo movement.
"Loveable Uncle Joe", the supposed darling of the Rust Belt, has morphed into "creepy uncle Joe", an online pariah. His nascent presidential candidacy is imperilled even before he has officially announced his bid.
Read full article Joe Biden: A frontrunner stumbles in the age of #MeToo