Bill Clinton acquittal: Echoes of a sex scandal 20 years on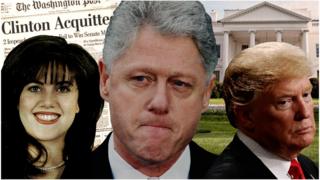 The paradox of the Bill Clinton impeachment saga was that it made it easier for Donald Trump to become president and harder for his wife, Hillary. Twenty years after his acquittal, it's clearer to see how that seismic event shaped American politics and culture today.
In a quarter century of covering US politics, I only have ever got round to framing two newspaper front pages. The first was when President Bill Clinton was impeached in December 1998. The second was when he was acquitted at the conclusion of his Senate trial the following February.
Washington in the late-1990s was my first foreign posting. The Monica Lewinsky scandal, as we inaccurately labelled it, was my first big American story. The picture framing was partly a vanity project to mark this personal milestone. But this also felt like a once-in-a-lifetime story.
Clinton was the first US president to be impeached since 1868, when Andrew Johnson also managed to avoid conviction in the Senate after being indicted by the House. Evidently, more seasoned Washington colleagues shared this view. As I came to discover over the following months, the same framed black and white newsprint, with the same banner headlines "Clinton Impeached" followed by "Clinton Acquitted", also adorned their study and toilet walls.
Veterans of the impeachment saga soon found themselves reporting on an epic tumble of events. The 2000 presidential election, with its disputed Florida recount. The attacks of September 11th. The Iraq war and its troubled aftermath. The financial crash, and the Great Recession that followed. The election of America's first black president, who handed over power to the country's first reality TV star president. Once-in-a-lifetime stories seemed to come along every few years.
Read full article Bill Clinton acquittal: Echoes of a sex scandal 20 years on