Paris climate pullout: The worst is yet to come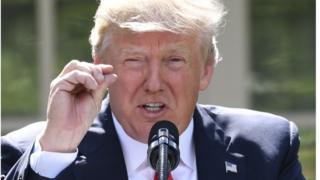 President Trump's announcement a year ago that he was withdrawing the US from the Paris climate agreement may have been the best and worst thing that could have happened to the deal, at the same time.
"The most important piece of good news, and it wasn't a foregone conclusion, is that other countries have stayed in and doubled down on their general determination not to walk away, not to let the US 'cancel' the agreement," said former US climate envoy Todd Stern, speaking at a meeting organised by the World Resources Institute in Washington this week.
Indeed, in the wake of the President's much debated decision to pull out, the agreement gained rather than lost supporters with Syria and Nicaragua signing on to the deal, leaving the US as the world's solitary wallflower on climate change.
This galvanising effect of the President's dismissal of the pact can be seen clearly inside and outside the US.
The America's Pledge movement, led by California governor Jerry Brown and former New York mayor Michael Bloomberg, has pushed cities, states, businesses and universities to commit to reduce their emissions.
Read full article Paris climate pullout: The worst is yet to come